It is no surprise if I tell you that most Mumbaikars spend an average of four hours daily, commuting to work and back, which is almost a quarter of their lives. The need to change this pattern has led to the development of sister cities like Thane, which has begun to see a lot of IT parks and MNCs coming up in certain areas. With the objective of providing budget residences for the professionals working here, Raunak Group has launched the project Raunak Heights. The concept behind this project, 'Walk to Home', is simply to reduce commute time between a person's workplace and house.
Location
The Raunak Heights project is located at Ghodbunder Road, an area that is presently undergoing rapid infrastructural development. A D-mart, located right on the service road off Ghodbunder road, serves as a major landmark. The road next to D-Mart is the access road to the site, which is further internally located at an approximate 15-20 minutes walking distance. The blaring noise of the busy Ghodbunder road died down as I reached closer to the site.
Social Infrastructure
The livability score at Ghodbunder road is always good, owing to the upsurge of residential projects as well as social infrastructure, which goes hand in hand. Located nearby are schools such as New Horizon Scholar School [2.4 km], Saraswati Vidyalaya High School [2.1 km], Dnyan Ganga Education Trust [300 metres], D. G Internatinal High School [300 metres], Hiranandani Foundation School [4.5 km]; Hospitals such as Titan Hospital [4.6 km], Shree Sai Hospital [4.3 km], Jupiter Hospital [7.6 km]; Malls and hypermarkets such as D-Mart [1.4 km], Hypercity [1.4 km], R Mall [6.6 km].
Site Layout
Raunak Group has bought a 30 acre land parcel at Ghodbunder Road, where they are developing various projects according to user need. The project Raunak Heights stands on a 1.5 acre linearly shaped site. It will compromise of 3 buildings- H1, H2 and H3. With the entrance at the east end, the west end of the site will allow for a scenic hill view from the upper floors. While more than 50 percent of the land is open space, there are various landscaped pockets with dedicated functions. To mention some; a gathering lawn, a sculpture plaza, a meditation and yoga lawn, a senior citizen area, swing court, palm court, play area for children, parent seating area, exercise deck and a play court.
Building and Apartment Layout
The target segment for project Raunak Heights, mainly being working professionals, the configuration on offer is 1 BHK apartments with areas of 645 sq. ft. and 651 sq. ft. Each building will be 20 storeyed, having 8 apartments per floor. Each floor will also have 2 staircases and 2 lifts, one of them being a stretcher lift. All the apartments have a buffer passage from the lobby to the main entrance door. These passages also have windows, which facilitate natural light and ventilation in the lobby.
The apartments are suitably planned, without the wastage of space. Each apartment has two toilets, one common and one attached to the bedroom. The bedroom has a separate wardrobe niche, which gives a clear rectangular usable space. The linear shape of the site has allowed every building to have its own space and all the buildings have been placed at a certain distance from each other. Due to this there is no visibility between the apartments of any two buildings, thus ensuring privacy.
Price
The price of these apartments range from INR 47 lakhs to INR 51 lakhs.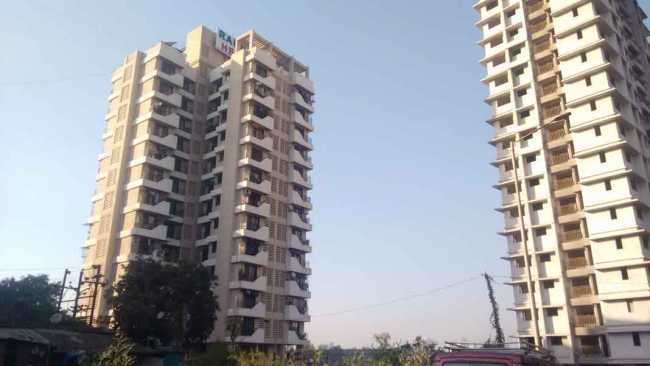 About the Builder
Raunak Group has delivered over 5,200 homes across Mumbai, Thane and Kalyan, since its inception in 1980. Within Thane itself Raunak Group has delivered major residential complexes like – Raunak Park, Unnathi Gardens Phase I and II, Laxmi Narayan Residency, Raunak Residency, Park View and Unnathi Woods. Therefore those interested in Raunak Heights have enough to validate about the Group's performance as a developer in this micro market. Raunak Group has been extremely careful in planning aptly sized homes for those price sensitive Mumbaikars who were finding it tough to own a property in this budget even in Mumbai's suburbs. Recently Raunak Group also got awarded the "Emerging Brand of the Year" in Real Estate for the year 2016-2017 by WCRC.
Download further information on Raunak Heights from builders portal