With Bangalore's growing popularity and cosmopolitan crowd, the demand for homes that are top notch, in locations that are upscale has grown. If your hunt for a home has the same pre-requisite, then there's a good chance that your hunt for a space has led you to one of the most expensive residential locations in Bangalore, Sadashivnagar.
The location comes with good social infrastructure, connectivity and royalty. Formerly home to the royal gardens of the Bangalore Palace, the area held onto its traditions and old school charm. Today however, it's home to celebrities, important government officials, business people and thriving commercial complexes, restaurants, banks, schools, hospitals, gyms- everything a home-buyer looking to invest in a sophisticated home needs. This is why Vaishnavi Group's Vaishnavi Splendour is located in the area.
Vaishnavi Splendour- More About The Location
With Esteem Mall and Sankey Tank on the drive to the project, Vaishnavi Splendour is located in RMV Layout Stage 2.  Sadashivnagar isn't just a location that's steeped in culture. A thriving social infrastructure comes with it.
Important locations around the project include Malleshwaram (2 kms away), MG Road (6 kms away), Palace Road (4 kms away), Majestic (6 kms away), Cunningham Road (3km), Richmond Town (6km), Frazer Town (5km), Lavelle Road (5 kms), Indiranagar (10 kms away), Ulsoor (7 kms away). All of these locations are less than or equal to 30 minutes away from the project.
The nearest metro station is the metro station in Malleshwaram (less than 10 minutes away). The nearest railway station is the Cantonment Railway Station (6 minutes away). The nearest bus stops are Doordarshan Nagar Bus Stop, Sadashivnagar Police Station, Ramdev Bus Stop and Chetana College Bus Stop. Majestic Bus Stop, which is a major bus stop with buses going outstation and to the airport, and where all official BMTC and other public transport related (bus) queries are addressed is 5 kms from the location. The Kempegowda International Airport is 30 kms from the location.
Educational institutions for junior, middle and high school in the area include Bishop Cottons (For Girls and Boys), Sophia's, Cluny Convent, Presidency School, Kendriya Vidyalaya, Florence Public School, Stella Marie and Air Force School. Higher education institutions include Mount Carmel College (PU, Undergrad and Post Grad), Presidency College, Dr Br Ambedkar Medical College, Rajiv Gandhi Institute Of Technology, Maharani Ammanni College For Women, Veterinary College, HKBK college of engineering and more.
Hospitals in the area include Fortis Hospital, Jain Hospital, Poornima, V Care, Cloudnine, Mallya Hospital, Command Hospital and other specialised centres. Alternative medicine options like ayurveda and homeopathy are also available here.
Malls around the area, and its neighbors include, Garuda Mall, One Mg Mall, Orion Mall, Sigma Mall, Mantri Square Mall, UB City and BDA complexes. Popular shopping locations in the area include Brigade Road, Commercial Street, Majestic, Gandhinagar and KR market
Vaishnavi Splendour- Through The Gates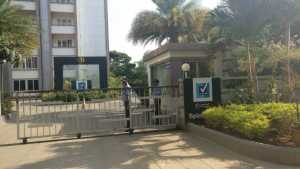 The project has tall rises that look unto tree tops and a spectacular view. Landscaping is also taken seriously and is done to increase green cover and add height to the project.
Vaishnavi Splendour offers homes that fall under the luxury category and if Google reviews are anything  to go by, they've succeeded in making the residents happy. These homes are designed to be  modern, of good quality and make. Amenities are  also included and are all inclusive to suit 'modern comfort'.
Vaishnavi Splendour- The Lowdown
Luxury comes from exclusivity and limited numbers. At Splendour, this translates to 88 apartments over 2 towers and 12 tall story buildings. Each home is either a 3 bedroom or a 4 bedroom premium apartment. However the height and  the  large and spacious homes aren't the only things that the project have to offer. Here's what we found.
A plush and well-designed lobby is at the entrance. This is done with the intention of giving people a warm welcome and add further light to the project. A servant room is attached to each home as well.
The interiors of the project include high quality vitrified tiles in the kitchen, living room and the bedrooms. The door and windows are made of teak and the former has designer shutters. The windows, meanwhile has glass panels. The kitchen walls have glazed ceramic tiles for upto 2 feet above the platform.The electricals include high quality copper wires that are concealed and fire resistant. These are accompanied by modular switches and sockets. Similar provisions in the bathroom include sanitary ware of hindware/parryware make. Needless to say the paint is of durable texture on the outside and acrylic emulsion on the inside and the kitchen has all the necessary provisions for various electricals as well.
The project amenities can be classified into interiors and exterior amenities. The former include a clubhouse, a gymnasium, indoor sports facilities, a steam room, convenience store, a library. The latter includes a tennis court, badminton court, basket ball court, a play area, swimming pool and more.
With water provisions being quite the problem in Bangalore at this time, provisions for green living like rain water harvesting has also been made. This is why water is available at the project 27/7. Besides this additional features include 24 hour electricity back-up, round the clock security, and a maintenance staff. Intercom facilities, health facilities and fire-fighting systems are also included.
If you're interested in the project, then we've put together a few details for you. The project is ready to move into. The 3 BHK homes are around 2174- 2200 sq.ft and priced at Rs 2.33-2.35 crore whereas the 4 BHK homes are around 3054- 3060 sq.ft and priced at Rs 3.27-3.28 sq.ft.