There was a time when Thane was considered a world away from Mumbai; it was literally another district. It has slowly but surely metamorphosed into a suburb and now it occupies the status as one of the most happening centres of Greater Mumbai! Its ideal location, specifically along the arterial Ghodbunder Road, allows it to straddle both the western as well as central suburbs and offers itself as a popular social get-away with its numerous malls, restaurants, high street stores and recreational spots.
This has led to increasing demand for housing and commercial space which has in turn led to spiralling costs, thus putting a once affordable suburb, nearly out of reach of the middle class, salaried home buyer. The influx of major names in real estate development also means more luxurious residential and gated accommodations have mushroomed, further increasing prices. In such a scenario, the Raunak Group occupy a unique position in Thane's housing market with their budget residential township – Unnathi Woods – which allows the middle class home buyer to own a residential property in a coveted location.
Raunak Group started development of the Unnathi Woods township in 2009 and delivered the first few residences in 2012. Over the last 7 years it has completed phases 1, 2, 3, 4 and 5 and delivered a whopping 1,061 homes at one location itself. It owns a huge parcel of land, 45 acres, just 5 minutes off the Ghodbunder Road and has been gradually developing pockets of it and handing over to the buyers. Currently phase 3 – consisting of two towers: C1 and C2 – is being completed. C2 has been delivered with OC and handed over to owners, while finishing touches are being applied to C1 with possession expected imminently. Phase 6 and 7 are the other two sub-projects currently being developed within Unnathi Woods.
The Raunak Group was established in the year 1980 and came to prominence for building residences in Mumbai, Pune, Thane and Kalyan. Over the years they have developed and delivered gated communities of over 4.8 million sq. ft. Currently they are developing 6.2 million sq. ft. across various parts of the city and state and one of these is Unnathi Woods in Thane. The Unnathi Woods township is being developed in a phased manner over a 40 acre parcel of land and spacious inner roads separate the various phases from each other, providing residents a homely, safe and desirable residence.
Unnathi Woods Phase 3 is almost completed and comprises of two towers: C1 – Stilt+17 floors and C2 – Stilt +16 floors, consisting of 1 bhk as well as 2 bhk apartments with configurations ranging from 625 sq. ft. to 1035 sq. ft. The prices of 2bhk units range from Rs.81 to Rs.84 lakhs while the 1 bhk units are sold out. C2 received the Occupancy Certificate in October 2016 and is now occupied while possession of C1 is expected by December 2017. Parts of Phase 3 enjoy wide, green views as it overlooks the reserved land as well as the soon-to-be developed jogger's park on the north while the eastern side looks onto the grounds of New Horizon Scholars' School and the greenery beyond.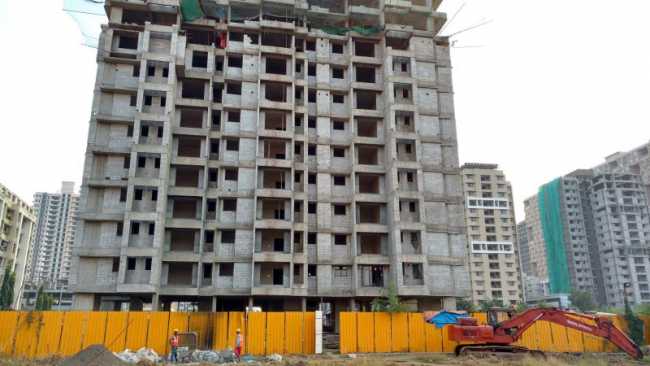 Unnathi Woods Phase 6 consists of two towers similar to Phase 3. F1 is Stilt + 16 floors and F2 is Stilt + 14. Possession of F2 is expected by December 2017 and comprises of 1 bhk and 2 bhk apartments. The 1 bhk units which are completely sold out range from 596 to 646 sq. ft. priced at Rs.52 lakhs onwards. The 2 bhk apartments start from Rs. 75 lakh onwards for a standard 875 sq. ft. Phase 6 will be surrounded by landscaped gardens and includes puzzle parking facility. Parts of it overlook the reserved ground and the jogger's park beyond. Construction of F2 is 65% completed while F1 will soon be launched.
Unlike Phase 3 and 6, Unnathi Woods Phase 7 is a larger one and consists of four towers, exclusively comprising of 1 bhk apartments starting at Rs. 47 lakhs. G1 (Stilt + 13 floors) and G2 (Stilt + 17 floors) have been launched and construction has reached the plinth stage with possession expected in December 2020. G3 and G4 are yet to be launched. G1 consists of a standard configuration of 575 sq. ft. units while G2 has 2 configurations of 575 and 660 sq. ft. Phase 7 will consist of its own exclusive clubhouse with gym and swimming pool.
All three of the phases come with the signature amenities that Raunak Group provides. These include earthquake resistant buildings with back-up generators for lifts, water pumps and staircase. All the towers also come with solar panels to power the common electric facilities as well as to provide hot water. Puzzle parking is a unique feature of these latest phases of Unnathi Woods which is in addition to the parking available in the stilt area.
The Unnathi Woods project is located 5 minutes off Ghodbunder and thus enjoys proximity to an arterial route as well as the many facilities along it, including hospitals, restaurants, shopping malls and other essential amenities. There are many good schools in the vicinity like New Horizon School which is next door and others like Hiranandani Foundation School, Holy Trinity English School which are close by. The impact  of the locational benefits can be easily understood from the fact that Unnathi Woods is already home to 902 families who enjoy all of these. More important is the fact that many of these families are middle class, first home buyers who have benefited from Raunak Group's quality, budget residential developments.
Recently Raunak Group also got awarded the "Emerging Brand of the Year" in Real Estate for the year 2016-2017 by WCRC