Travelling on the Ghodbunder Road, I saw many buildings as I passed by. I had a feeling of  indifference looking at them, until a series of buildings having a unique elevation with wavy louvers caught my eye. These unconventional buildings were a part of the project Tropical Lagoon by Soham group,  tallest in the vicinity by far, and their eye-catching look tempted me to pay them a visit.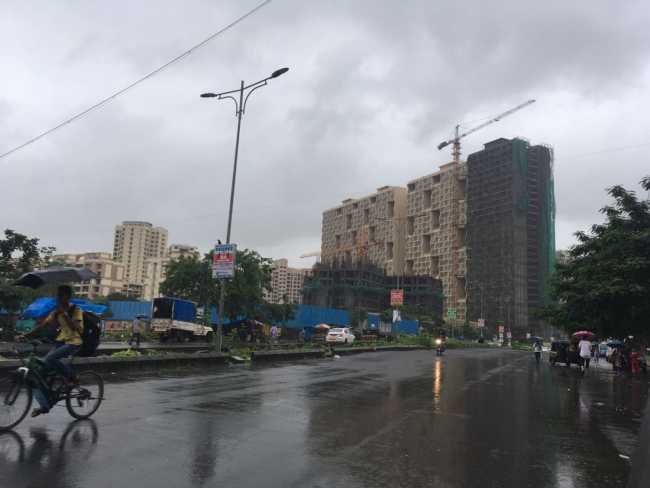 Tropical Lagoon: Location
I approached the site via the Unnathi Woods Road, which is off the Ghodbunder Road. The Ghodbunder Road connects the Eastern and Western Express Highways of Mumbai. It is well connected by city buses (BEST, TMT, NMMT) and provides easy access to social amenities like schools, hospitals etc. In recent years, the areas around Ghodbunder Road have been undergoing massive development which makes it a desirable choice for the buyers.
Tropical Lagoon: Social Infrastructure
Educational institutes such as Arunodaya Public School (1 km), Arya Cambridge International School (0.65 kms),  and Saraswati Vidyalaya High School and Junior College (0.23 kms) are located near this site. Hiranandani Hospital and Dhanwantari Multispeciality Hospital are located at a distance of 3.4 kms and 2.2 kms respectively. This project has its own shopping center, which is located just 200 metres away from the residential site. Hypercity mall (1.1km) is also located nearby. For recreational purposes, Suraj Water Park is located 2.4 kms away from the site.
Tropical Lagoon: Site Layout
There are 5 towers which together form an L-shape, with the club house, swimming pool and other recreational amenities at the centre. 60% of the total is an open area. The outdoor sports area and banquet lawns surround the club house from the other side. Also, there is a dual height parking lot under the landscaped podium.
Tropical Lagoon: Construction Status
Of the 5 towers, tower 1, 2 and 3 have been completed, whereas tower 4 and 5 are under construction. Towers 1 and 2 have been completely sold out. Tower 5 is still in the early stages of its construction process. This article focuses on tower 4 as its work is in progress and its layout plans and price quotes are available to the buyers.
Tropical Lagoon: Amenities overview
The recreational amenities include an 80,000 sq. ft. podium garden with a jogging track, a senior citizens' activity centre, a club house with a well equipped gym, squash court, snooker and pool table, carom, cards and table tennis. There is a 3800 sq. ft. swimming pool which extends into the kids 'pool. Also, there is a multi-cuisine café, banquet hall, amphitheatre, party lawn and a wide open terrace sit out. The outdoor sports area includes basketball, cricket, and a skating area.
Tropical Lagoon: Building Layout
All 5 towers are 26 storeyed. Tower 4 consists entirely of 2 BHK apartments. There are 3 apartments on the 1st floor, and 4 on all the others, with 2 staircases and 3 lifts on each floor. On every fourth floor, i.e the 8th, 13th, 18th and 23rd floors, there is a 40 ft. high sky garden area provided on the south side of the tower. Also, there is a servant's toilet on each floor.
Tropical Lagoon: Apartment Layout
The 2 BHK apartments have a standard design, with separate areas dedicated for dining and the washing machine. The master bedroom has a separate wardrobe niche which gives a clear usable rectangular area.
Tropical Lagoon: Price
For the 2 BHK apartments in tower 4, the carpet area is 865 sq. ft. and the price ranges from INR 1.25 to INR 1.5 Crore.
About the Builder
The Soham Group has over 30 years of experience in real estate market and has constructed more than 40 projects in India. Some of their projects projects are Soham Gardens in Manpada, Thane, Soham Vrindavan Garden in Badlapur, Thane, Soham Exotica in Sector 21 Khaghar, Navi Mumbai, Soham Residency in Mulund (East). Soham Streling Apartments in Hari Om Nagar, Thane is one of their upcoming projects.