It has been well-documented as to how the Information Technology (IT) boom has changed the face of many Indian cities, Hyderabad being a good example of the same. The city, known for its culture, history and pearls, became a mainstay of the IT industry, which established itself in Cyberabad in the west of the city. With some of the world's biggest and most renowned companies setting up campuses here, a large number of people were drawn to work in this city. This gave a boost to housing demand and a number of developers stepped in to fill this need. Interestingly, in a market dominated by local and some national players, a global real estate firm has also entered here. This firm is Pacifica Companies and the project in question is Pacifica Hillcrest.
Pacifica Companies is a USA-based conglomerate, which has to its name, several projects in USA and Mexico. They entered India in 2005-06 and have a presence in Ahmedabad, Bangalore, Chennai, Delhi NCR and Vadodara. Pacifica Hillcrest is their first foray into Hyderabad. I visited the project site to get to know more about it and have mentioned my observations below.
Pacifica Hillcrest: Location & Connectivity
Pacifica Hillcrest is located in Nanakramguda, in close proximity to the Financial District, which is barely 1-2 km from the site. The project is at a slight elevation compared to its surroundings and is accessible by an untarred road at present, which was being widened when I visited. The project primarily targets people working in the IT hubs of Hitec City and Gachibowli nearby. Apart from Financial District, other IT corridors such as WaveRock SEZ (1.5 km), DLF Cyber City (6.5 km), Raheja Mindspace (9 km) and Cyber Gateway (10.5 km) are all a short distance from here.
A number of buses ply till Financial District and ISB Road nearby, but the nearest bus stand is around 1.5 km from the site. The nearest railway station is Hitec City MMTS Station, which is 12.5 km from here. The Hyderabad Metro, which launches shortly, won't greatly enhance connectivity to the project site, with Shilparamam, the nearest Metro station, being 10 km away. What does greatly enhance connectivity, however, is the Outer Ring Road, which is barely 3 km by road and is visible from the site. This expressway connects the project to other parts of Hyderabad city and the Rajiv Gandhi International Airport (32 km away), the latter being reachable within 45 minutes from here. The best transportation options for residents would be to use their private vehicle or a cab.
Pacifica Hillcrest:  Social Conveniences
The proximity of Pacifica Hillcrest to the major IT hubs also translates into availability of more and better social amenities for residents, with the neighbourhood boasting of some of the best service providers in the city. Prominent schools such as Oakridge International School (5.5 km) and Delhi Public School (6 km) in Manikonda, Phoenix Greens International School (5.5 km) in Kokapet and Future Kids School (6.5 km) in Puppalaguda are among the best educational options in the project's vicinity. Renowned higher educational institutions such as Indian School of Business (4.5 km), University of Hyderabad (7 km), NIFT Hyderabad (10.5 km) and ICFAI University (11 km) are also close by.
Among healthcare providers, the most prominent ones near Pacifica Hillcrest are Continental Hospitals (1.2 km), Himagiri Hospital (6 km), Care Hospital (8.5 km) and MaxCure Hospitals (11 km). For shopping, residents can patronize malls such as the South Indian Shopping Mall in Gachibowli, Inorbit Mall in Hitec City or Forum Sujana Mall in Kukatpally, all of which lie within a 10-14 km radius of the project.
Pacifica Hillcrest: Site Overview
Pacifica Hillcrest will be among the largest and the tallest residential projects in the area. The total project area is 40 acres, with the project coming up in 4-5 phases. As of now, Phase 1 (which I shall focus on in this article) has been opened for bookings, with possession to be handed over by December 2018. Phase 1 occupies an area of 6 acres and comprises 5 residential towers A, B, C, D and E. Each of these towers will have 18 residential levels, built above 3 levels of parking and considering that the project is at an elevation, will offer picturesque views of the surroundings.
At the time of my visit, I could see that excavation work was on at the project site for Phase 1 as well as the clubhouse, which will come up simultaneously at the other end of the complex. Wide driveways and ramps will be provided for vehicular movement from the entrance to the parking.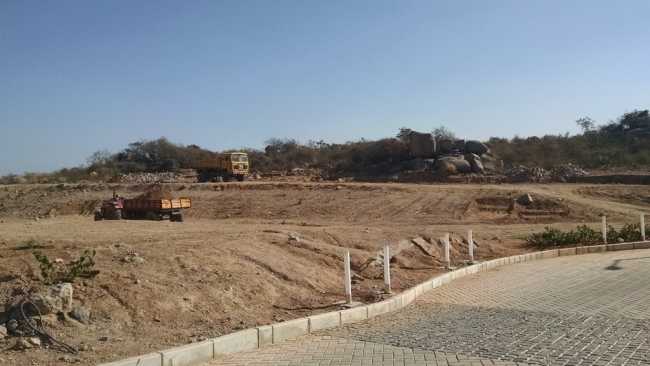 Pacifica Hillcrest: Apartment Overview
Of the 5 apartment towers in Phase 1 of Pacifica Hillcrest, towers A and E have a similar layout, while towers B, C and D are similar to one another. In the former group, there are 4 apartments per level, with two each of 3 BHK (2000 and 2008 sq. ft.) and 4 BHK (2635 and 2644 sq. ft.). In contrast, the latter group has 10 apartments per level, of which 8 units are 2 BHK (size range of 1282 – 1400 sq. ft.) and the remaining 2 units are 3 BHK (1881 and 1886 sq. ft.). Put together, Phase 1 has 684 residential units. Blocks A and E have 2 elevators, while blocks B, C and D have 4.
The design and layout of the apartments deserves a mention. All apartments are open from three sides and sufficient distance is maintained between each tower. This safeguards the privacy of residents, as well as allows natural lighting and ventilation to enter and leave the apartment, reducing residents' need for using electrical appliances during the day. Also, all apartments are not just quite spacious (as indicated by their sizes), but are designed to maximize the living space available to residents, with no internal passageways etc. forming part of the apartment. At the same time, all apartments, whether 2, 3 or 4 BHK have only one terrace, which may not suit all categories of home buyers.
While all 3 and 4 BHK apartments have attached toilets to each bedroom, in 2 BHK residences, some configurations offer only attached toilets, while others have 1 common and 1 attached toilet. Similarly, some apartments offer a store room, others may not, hence, residents need to check the same as per their preference. The specifications of the apartments indicate their premium nature. While the master bedroom will have laminated wooden flooring, the living and dining room, other bedrooms and kitchen will use elegant 600X600 mm vitrified tile flooring. 100% power backup and a pre-installed gas connection will be provided to all homes. The master bedroom toilet will have fittings by Kohler or an equivalent brand, with the other bathrooms having Jaquar fittings.
The base price of an apartment in Pacifica Hillcrest is Rs. 3,700/sq. ft. In addition, charges will be payable for car parking, amenities, legal charges, registration, maintenance etc. 1 car parking will be provided to a 2 BHK home owner and 2 parking spaces to a 3 and 4 BHK home owner. East-facing or road-facing apartments too come with a slight view premium.
Pacifica Hillcrest: Amenities Overview
As of now, not too many details are available about the amenities contained in this project. However, considering the developer's brand and the profile of people likely to reside her, one can expect high quality amenities. As per indications, the clubhouse, once complete, will contain a banquet hall, bar, card room, mini theatre, bowling alley and multipurpose hall for recreation. Sports or fitness enthusiasts are likely to have the options of a badminton court, squash court, yoga area and a swimming pool. The clubhouse is also likely to contain a cafeteria, library and restaurant for residents and their guests.
Conclusion
Pacifica Hillcrest is an ambitious project by a developer with a global footprint, who aims to provide a similar experience to the discerning home buyer in western Hyderabad. With a convenient location, good road connectivity, premium specifications and well-designed apartments with plenty of choice among available configurations, this project might become a landmark one in the area in the years to come.