Utilizing public transportation options, particularly a bus,to commute across a city is not quite everyone's cup of tea. Among some of its (onerous) demands is having to keep up with routes, timings, passes and not to mention, considering it's India we are talking about, delays. The hassle that's associated with taking the bus to work or school compels many to save up for their own transportation instead. In a city as congested as Bangalore, however, buses aren't just an option, they're a necessity. Fortunately for Bangaloreans, bus services in the city aren't just efficient and comfortable, they're also quite modern with BMTC services.
The Bangalore Metropolitan Transport Corporation (BMTC),a government agency, runs bus services in the city and is popular for its high number of Volvo buses, which is unparalleled by any other public transport company in India.
The different kind of buses that BMTC operates can be differentiated on the basis of design and colour. The options includeSuvarna(red, green/white), Pushpak (coffee coloured, single door), BIG 10 (Suvarna with G prefix), BIG Circle (Suvarna with C or K prefix), AtalSarige (Indian tri-colour livery), Vajra (Red, Air conditioned), Marcopolo AC and Corona AC (AC buses, lower fares than Vajra) and VayuVajra (airport shuttles with free wifi).
Special buses include Metro Feeder (feeder network to metro stations), Hop On Hop Off (Bangalore tour buses) and the new Mercedes Benz buses (on trial) and Solar Energy run buses (also on trial).
Most recently in the news for sporting the logo of Old Monk rum on Volvo buses, BMTC has managed to adapt itself to the changing times. It also plans on having smart card facilities where commuters can use their cards to pay for buses instead of relying on the old paper tickets.
Here are a few important bus stops for those living in South Bangalore.
1. Jayanagar Bus Stop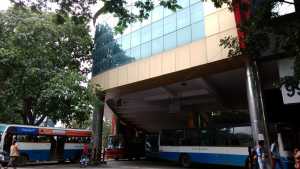 Situated next to the popular market complex in the 4th block, Jayanagar Bus Stop is a TTMC (Travel and Transit Management Centre), where students and adults can get their bus passes. Volvo bus passes, however, can only be made in the Majestic TTMC and renewed by the conductor.
Hard to miss, the large bus stop has buses to important locations like Majestic, Yeshwanthpur, BTM Layout, Corporation, LalBagh, Shivajinagar, MG Road, Banashankari, Kumarswamy Layout and RT Nagar, covering North, South and Central Bangalore.
KIAS-5 and KIAS 12 regularly stop at the bus stop before heading to the airport.
2. Banashankari Bus Stop
Another TTMC and the only other in South Bangalore, apart from Jayanagar and Bannerghatta, Banashankari Bus Stop caters to the needs of residents of both Banashankari and Kanakapura Main Road. The place also has joints, serving good food.
Banashankari Bus Stop connects to the North, South, East and Central areas of Bangalore and has regular buses to KBS (Majestic), KR Market, Konanakunte, Kaggalipura, Kanakapura road, Shivajinagar, Jayanagar 4th block, Kengeri, Uttarahallli, Central Silk Board, Attibele, ITPL, Kadugodi, Domlur, Srinagara, Kumaraswamy Layout, Electronic City and more.
KIAS-5 bus to the airport originates from this stop as well.
The TTMC is known to be very clean, with courteous staff and provision for WiFias well.
3. Shoppers Stop Bus Stop
The underdog of this list, but an important one nonetheless, almost every bus that moves through Bannerghatta through Central Bangalore passes through this bus stop. Right opposite Gopalan Innovation Mall, the bus stop's biggest downside is that it doesn't offer good shelter from the heat and rain.
The stop gets its name from Shoppers Stop right behind the bus stop and is also alternatively known as Mico Layout Bus Stop.
Airport buses pass by the bus stop but stop a little ahead of the bus stop itself.
The bus stop caters primarily to the residents of BTM Layout. Regular buses going to Bannerghatta TTMC and Bannerghatta National Park halt here.
4. NIMHANS Bus Stop
The bus stop gets its name from National Institute of Mental Health and Neuroscience (NIMHANS) and is on Hosur Main Road going towards Koramangala.
The bus stop is towards the end of South Bangalore and connects it to Central, Eastern and Northern Bangalore with regular buses going to Majestic.
Frequented by students of Christ University and NIMHANS, the bus stop isn't too large and is easy to miss.
5. Dairy Circle Bus Stop
Another halt frequented by students of Christ Academy (less than a km away) and those going towards areas in Bannerghatta, Dairy Circle bus stop is notorious for its peak hour traffic that intensifies during rainy days.
Buses going through Dairy Circle primarily go through the stretch of Bannerghatta Main Road and those coming in from Bannerghatta go towards the centre of the city via NIMHANS and Shantinagar, most of them headed towards Majestic. Regular buses also go towards KR Market.
KIAS-7 which originates from HSR's BDA Complex (also another important bus spot) halts regularly at this bus stop.