In today's real estate scenario, success is not limited to making money alone. The forethought to build an enviable brand image, through years of dedication has played a pivotal role in the success of many first generation real estate developers of this country. The Puravankara Group is one such company which, over the years, has emerged as one of the most sought after names in the real estate sector. Led by Mr. Ravi Puravankara, the group is headquartered in Bangalore. They also have a business presence in other cities such as Mumbai, Hyderabad, Kochi, Coimbatore, Chennai, and Dubai.
Founded in the year 1975, with its first project in Mumbai, there has been no looking back for the Puravankara Group. An ISO 9001 Certification by DNV in 1998 and a DA2+ rating by CRISIL, the company went public in 2007 with an IPO of Rs. 500 per share. With 23.5 million square feet of land consisting of 48 completed residential projects, 2 commercial projects, and another 25 million square feet under development, the company has acquired a reputation of becoming one of the favourites among consumers, especially in the residential segment.
The company operates a premium housing segment under the flagship brand name Puravankara, a budget housing venture under the name Provident, and an Infrastructure & Contracting segment under the name of a subsidiary company Starworth Infrastructure & Construction Limited. Keppel-Puravankara is a joint venture of the group with Singapore's leading real estate developer, Keppel Land Limited.
Puravankara: The Company of Firsts
Be it small or big, the Puravankara Group has several unique achievements to its name. The flagship brand – Puravankara, became the first of its kind to introduce 'theme-based housing projects' to Bangalore; this practice is kept alive till date, with projects such as Purva Palm Beach, and the group looks to innovate further in this regard. They also have a name for being the first real estate company in India to attract Foreign Direct Investment.
Puravankara: Speaking with the Employees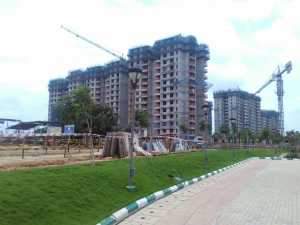 We recently had the opportunity to interact with a few employees at their office in Bangalore. The company has a skilled workforce of over 900 employees which include around 205 engineers and in-house architects. We were astounded to know that Puravankara hires people from diverse backgrounds ranging from Arts to Defence, in order to cash in on the variety of experiences they have and also on the innovative approach they can bring to the table.
The company believes in investing in their employees and hence provides them with incentives such as referral programs, coveted training programs, access to various workshops and much more. The employees were also happy about the open environment they get to work in and also the merit-based hiring system which Puravankara follows rigorously. We were also told that the superiors here provide freedom and authority to their subordinates in decision-making. They do this in order to foster a competitive spirit and encourage ownership of the project and hence, the brand name.
Puravankara: On the Consumer Front
The Puravankara Group, with its customer-centric approach has built a strong consumer base over the years. The founder, Mr. Ravi Puravankara has repeatedly attributed the success of his company to its customers and says that helping people own their dream home is the primary goal of the company. The target set of customers for each project are involved from the stage of project identification and this relationship, once forged, will last a even after the homes are handed over.
Time and again, Puravankara has chosen convenient project sites, keeping in mind the ease of commute for its customers. Quality and timely delivery of projects are priority, since, those matter the most to the consumers. The company has an innovative approach to each of its projects, which make them stand out and feature in a home-buyer's list.
Follow our coverage of Puravankara in Bangalore on Proppstory.
Further, initiatives such as Purva Privilege program and Purva Advantage Program which give special offers and discounts to its customers are ways of assessing how much they are valued. In addition to these, Purva Connect programme was launched to reach out to all home buyers. In conversation with one of the marketing managers, we learned that 30% of customers prefer a Puravankara project when looking for a second home.
Puravankara: Giving Back to the Society
The company has been actively involved in various CSR activities ranging from education,  to improving civic amenities. They have tie ups with several NGOs such as Asha Charitable Trust, Nandan Pillai Organisation, India Foundation for Arts and several others, and continues to provide support in terms of financial aid for the same and also by organizing events. In addition, the company has contributed towards maintenance of parks, roads, flyovers and other civic amenities, by associating with Government of Karnataka. Some of the examples are War Memorial Park on Brigade Road, Marathalli flyover, Suvarna Park in Domlur and so on.
The company has been recognised and awarded time and again for their innovative approach to residential projects. The founder himself has received many accolades for his achievements in the field of real estate. Residential project of the year award for Purva Venezia in 2014 by Realty Plus Excellence Awards, Scroll of Honour Award Real Estate Conclave & Excellence Awards (south) for Mr. Ravi Puravankara in 2014, Brand Excellence Award in Real Estate at the ABP Brand Excellence Awards in 2013, and the list goes on.
With this whole experience of learning about a noted real estate development company, interacting with its employees and hearing about what customers have to say, I could conclude that a company which puts its stakeholders first and practices good work ethics, will invariably thrive in today's competitive world, since, the last say remains with none other than the customers themselves.