'Innovation is the key to success in any business today'. This is a very generic statement which we all agree to, but interpret in our own ways. Especially in the real estate sector, a majority of real estate developers have limited their innovative approach to either designing their products or planning their Ad campaigns, and in certain cases, both. No doubt these strategies appeal to a home buyer, if he sees potential in the project offering; but, what would leave a long-lasting impression, is the feeling of being empowered.
The Puravankara Group, which prides itself in following the most professional business practices, made a breakthrough in the year 2013, when, instead of pricing their projects themselves, they decided to give their consumers the power to decide prices for homes they would invest in. This was another feather in the cap for  the company which places consumers at the centre of its business model, which, according to their chairman, Mr. Ravi Puravankara, is the secret behind their success.
IPO Style Pricing by the Puravankara Group: How does it work?
Shunning the conventional method of pricing a property and then inviting applications from the customers, the Puravankara Group decided to handover the decision making to interested parties for a particular project. This method  draws inspiration from the practice of Initial Public Offering followed in the share market. The Group sets a price range for a particular project, at a pre-launch stage; prospective buyers are then invited to an event, where they are briefed on the project specifications, location, amenities, themes, and other aspects. Based on this information, they can decide how much they are willing to pay for the project and select a price from the range specified. This is termed as collecting the buyer's expression of interest (EOI).
The Puravankara Group has been following this technique for almost all their projects since September 2013, and it has proved to be quite profitable both in the financial aspect and the consumer relationship. This practice helps in faster revenue generation, quicker bookings, resulting in lesser debts. Another subtle advantage of this method is that a home buyer feels involved in the project he is about to invest in, from the pre-launch stage itself, which will result in a good home buying experience for him.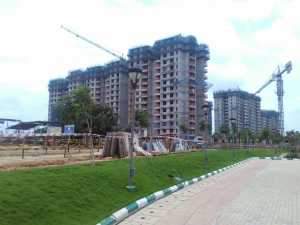 The Benefit of this Pricing Strategy
This innovative approach to property pricing, has earned the Puravankara Group many loyal customers over the years and continues to do so. We also learnt that about 30% of home buyers consider Puravankara for their second home option. Further, this practice adds more transparency to the customer-developer transactions and establishes a strong bond between the two. Many recently launched projects such as Purva Palm Beach and Purva Westend in Bangalore and Purva Silversands in Pune have profited from this type of pricing. While in conversation with the marketing team of the Puravankara Group office in Bangalore, we learnt that around 70% of sales in Purva Westend can be attributed to this method, and people prefer it because it offers good flexibility and a sense of control over their investment.
With an unconventional approach to sales, innovative and 'best in the market' construction techniques, attractive theme based projects, and many more credits in its kitty, the Puravankara Group has emerged as a consumer-centric real estate developer and promises to tread the same path by always putting the consumers first.
Follow our coverage of Puravankara on PropStory.