Sobha Elanza, Kothrud – Rising above the city
When one considers purchasing a luxury home, Sobha Limited is one of the first developers that come to mind and with good reason. Sobha comes with a nearly 40 year track record in the luxury home sector and in a rarity for Indian realty firms, have a significant international presence in the Middle East as well. In India, Sobha has come up with a variety of projects, catering to both low density (large villa based townships) and high density (towering apartment complexes) living. Their latest offering in Pune, Sobha Elanza in Kothrud, comes under the latter category.
Sobha has an established and enviable presence in Pune, with its portfolio including the completed Sobha Carnation and Sobha Ivory and the under-construction Sobha Garnet and Sobha Orion in the suburb of Kondhwa. Sobha Elanza represents Sobha's first foray in the western part of the city and aims to tap into the vast demand for luxury housing in this part, fuelled by the large IT and industrial parks in the area, which act as major employment centers. In this article, we look at what this project has to offer.
Location & Connectivity
Sobha Elanza is located on the Paud Road, right at the end of Kothrud, next to the Bawdhan Hills and the major road intersection called Chandani Chowk, which sees the convergence of NH4, Pirangut Road and NDA Road, in addition to Paud Road. Hence, road connectivity to and from the project is not an issue, with these roads linking it to all parts of Pune and Pimpri-Chinchwad as well as other towns and cities such as Satara, Kolhapur and Mumbai. Regular PMPML buses ply through Chandani Chowk, throughout the day.
One of the lines of Phase 1 of the Pune Metro project, which has recently been cleared, will originate from Vanaz, barely 2 km away, which should give a major boost to intra-city connectivity. However, till then, road transport is the only option for residents as commuting to major transportation hubs such as Pune Railway Station (11 km), Shivajinagar (9.5 km), Swargate (9.5 km) and Pune Airport (19 km) is quite time-consuming, considering the chaotic traffic conditions in the area.
The IT hubs of Hinjewadi (15 km) and Baner (9 km) are easily reachable from the site via NH4, but the road tends to get very crowded during peak hours. Industrial zones such as Pirangut (13 km) and Pimpri-Chinchwad (21 km) house many multinationals and this project is appealing to big-shots working in these aforementioned commercial centers. Another target category are people looking for a comfortable retirement home, who find the greenery surrounding the complex to be appealing.
Social Conveniences
Kothrud has been one of the older residential districts in Pune and the social amenities in the area reflect the same. There are not too many malls in the area, with the exception of the Aditya Shagun Mall on Pashan Road (2 km away). However, grocery shops and restaurants abound, partly due to the location on NH4 and the educational institutions nearby. With the development of Bawdhan next door, more developments are on the cards.
The more popular schools here are largely affiliated to the Maharashtra State Board, such as Periwinkle English Medium School (3 km), Sahyadri International School (2 km) and St. Joseph's High School (8 km), though there is also Ryan International School (ICSE, 3 km). For higher education, quality options are aplenty with renowned institutions such as MIT College (3 km), Savitribai Phule Pune University (10 km), Fergusson College and Symbiosis International University (both 9 km), ILS Law College (6 km) and Film and Television Institute of India (6 km) all conveniently reachable from the project site. For residents' medical needs, they can choose from among Om Hospital (2 km), Sahyadri Hospital (2 km), Lodha Hospital (3.5 km) and Deenanath Mangeshkar Hospital (6 km).
Project Overview & Amenities
Most housing complexes in Kothrud are low rise. Sobha Elanza aims to change it, with some of three tall residential towers, each having 20 residential levels, built upon a massive 5 level parking. These buildings promise to be among the best vantage points in Kothrud, offering a birds' eye view of the city and the hills. The complex will include a forest-like garden area at its rear, next to the hills, for residents to walk or jog in with sit-outs.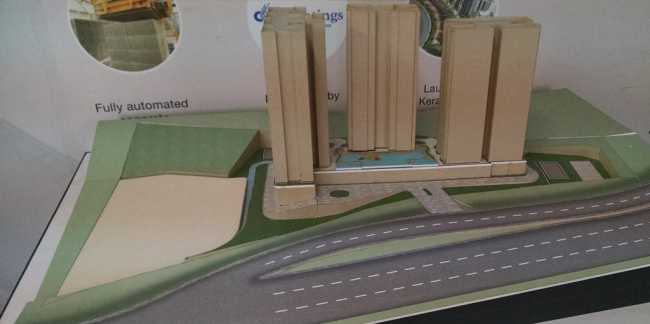 The podium level (above the multi-level parking) will comprise of a large swimming pool, which will be suitably segregated into a lap pool, leisure pool and kids' pool. This, in turn, lies above a large 12,000 square feet clubhouse, which is planned to contain amenities such as function halls, card room, café and various indoor games. Located on one side of the complex is another smaller clubhouse, which will contain indoor badminton and tennis courts for residents.
As of now, tower 1, comprising 3, 3.5 and 4 BHK apartments has been opened for bookings. This tower will have 5 apartments per level, making a total of 80 apartments. Tower 2 is planned to contain exclusively 3 BHK apartments, while the plans for tower 3 are yet to be finalized. Sobha aims to hand over possession of Sobha Elanza by March 2020, so the project suits one who has a longer timeline in mind.
Read more about the project on the developer's website.
Apartment Overview
When it comes to describing Sobha Elanza's apartments, one important aspect to mention is that Sobha is a backward integrated developer. What this means is that most of the construction materials and fittings used in the project are developed in-house by Sobha at its various factories, instead of relying on external suppliers for the same. In Sobha Elanza, apart from the tiles used in the homes, all other material is Sobha's itself. The benefits to customers are aplenty: lower dependency on external suppliers means lower construction time, less wastage of material, greater quality control and easier apartment maintenance.
Sobha Elanza is a high-end project and it demands excellent quality standards. To this end, the package that Sobha offers includes 22 mm marble flooring used in the living and dining room. The apartment uses soundproof French windows and a veneer entrance door, provided by Sobha. Sobha is offering a 10 year waterproofing guarantee to home buyers. The master bedroom will have wooden laminated flooring, while the main bathroom comes with a glass shower partition.
The attention to detail in the construction of the apartments too must be made a mention of with the following aspects illustrating the same. Sobha provides home owners with tile spacers to allow for easy removal of cracked tiles, without affecting the neighbouring tiles. Usage of a GI mesh within the building's walls makes allowance for a building's expansion (during summer) or contraction (during weather), without causing cracks on the plaster. Similarly, the internal walls use metal corner beading to prevent chipping of exposed corners from impact from doors.
Each home in Sobha Elanza has 2 entrances: the main entrance and the servant room entrance. The main entrance opens into a foyer, with the guest bedroom and attached bathroom next to it. The foyer opens into the large living cum dining room, with a large attached terrace and balcony. The kitchen faces the dining area, with it opening into the dry balcony and servant's room, which has a separate entrance. On the other side of the living room is a passageway leading to the other bedrooms. A 3 BHK apartment comes with 2 attached and 1 common bathroom, while a 4 BHK has 3 attached and 1 common bathroom.
Apartment Size and Prices
The size of apartments in Sobha Elanza varies depending on its configuration and whether it has a servant's room or not. A 3 BHK apartment occupies an area from 1755 sq. ft. (without a servant room) to 2078/2081 sq. ft. (with servant room). All 4 BHK apartments come with a servant room and occupy an area of 2631/2672/2703 sq. ft. These large spacious apartments, with no common walls between them, provide residents with plenty of privacy and space to engage in their activities.
Sobha's projects come with a significant premium compared to other developers and the same holds true in Sobha Elanza as well. The base price for a 3 BHK apartment is Rs. 10,555 per sq. ft. and the starting price for an apartment is ~Rs. 2.16 crore (without servant room) and Rs. 2.5 crore (with servant's room). The base price for a 4 BHK apartment is Rs. 10,855 per sq. ft. and has a starting price of ~Rs. 3.5 crore.
Conclusion
Sobha Elanza is Sobha's first foray in western Pune and represents the developer's focus on the city. This ambitious project could well serve as a landmark in the area, owing to its location and its offerings to residents. This project suits those home buyers best, who have a relatively long timeline for moving into a home and are willing to pay a premium for the quality offered by the developer.
Need more info to decide if this project is for you?
No problem, share your queries with us and we shall respond in 7 days