Paras Irene is backed by a strong brand lineage where Paras Buildtech is opening doors to an exquisite lifestyle. With 8 projects already delivered, currently the Paras team is aggressively working to complete 5 projects in NCR. An impressive spectrum of offerings includes residential, commercial and retail spaces, with development spread across Gurgaon, Noida, Zirakpur (Punjab) and Mohali.
PropStory team recently visited the site to take an account of the progress of the project. As possessions are about to begin in Paras Irene, this article tries to cover everything that home buyers need to consider before making that crucial purchase decision.
Paras Irene – Site Overview
Covering an 8 acres plot on the Southern Peripheral Road in sector 70A, Paras Irene is a premium housing society. The project consists of 7 towers and 456 units in total. This beautifully designed site offers a wide choice of 2, 3, 4 BHK apartments and Penthouses with options ranging from G + 13/17/21 floor structures. These tall edifices however fall short next to the Aravalli hills whose views can be enjoyed from Paras Irene. The site is located just 10 kms away from the NH-8. The simple yet elegant architectural design is mindful of different facets of buyers' needs. There is a marvellous club house and shopping complex within the premises. The project is designed by nationally acclaimed Architect Design Plus, while the landscaping has been conceptualized by Cracknell, a Dubai-based firm.
As of June 2017, this project is almost complete, and the builder will start giving possessions from July onwards. Few last moment touch-ups are going on, so that the early movers don't get a chance to complain about their initial purchase. Club house, swimming area and the shops would be operational as soon as the occupants start moving in.
Location & Connectivity
With quick access to the Golf Course Extension Road and NH-8, another key aspect is connectivity with the IGI Airport that is a 40 minutes' drive away. Presently the road connecting the project to NH-8 is not fully constructed, but a planned 60 meter wide approach road will make Paras Irene one of the most easily accessible sites in the area. HUDA Metro station is just 15 mins away from here.
To address the customers' safety woes in this sparsely inhabited area, Paras Irene is offering high end security with its guards positioned within 1 km range of the project, in addition to the 3-layer security within the premises. Presently the neighbourhood is not fully inhabited, but by mid-2018, a shopping mall across the road from Paras Irene will bring much-desired traffic to this area. Sector 70 may become a preferred locale for families with short drives to the other areas of the city like Golf Course Road (10 mins), Rajiv Chowk (15 mins) and NH-8 (5 mins).
Paras Irene – Apartment Typologies
Paras Irene offers 2/3/4 BHK fully air–conditioned apartments and penthouses, spread within a gated community of 7 Towers. At Irene, every apartment has been designed to cater to buyer-specific aesthetic and functional needs. The builders offer a wide range of layouts, that start from 1420 sq ft apartments and go up to 4500 sq ft penthouses.
Towers N1 & N2 have flats with 3 bedrooms, 2 washrooms and a servant quarter which make up an area of 1830 sq.ft. The next two towers N3 & N4 have typical 4 BHK apartments of 2,525 sq. ft. area with 4 washrooms and a servant quarter. Towers N3, N4, N6 & N7 also have a 3BHK configuration, slightly different from that of N1 & N2. This consists of 3 bedrooms, 3 washrooms along with the servant quarter summing up to 2150 sq. ft. The only 2 BHK tower is N5, having apartments with 2 bedrooms and 2 washrooms in a 1420 sq ft area.
Since the project is landscaped by the same designer as that of Burj Khalifa, one can't resist being enthralled by the superior site architecture of Paras Irene. Unbelievable as it may sound, Irene presents 4 styles of penthouses. Tower N3 & N4 have Type-A 4 BHK penthouses (4150 sq. ft.) with additional terrace area.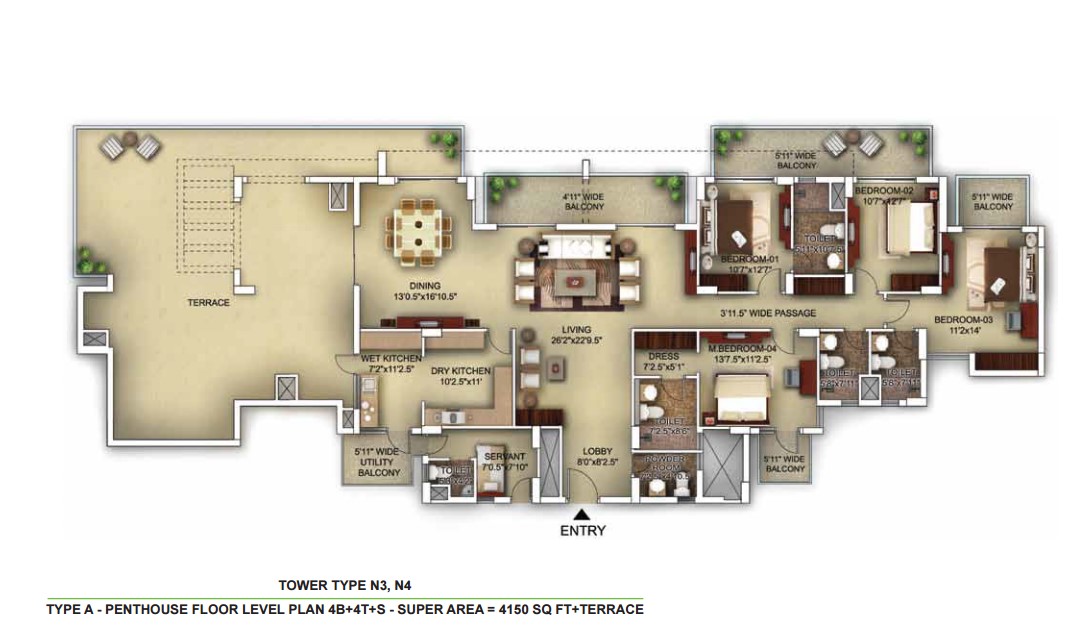 Towers N3, N4, N6 & N7 have a compact and cozy 4 BHK penthouse that covers 4000 sq. ft without terrace. Tower N5 boasts of the most beautiful 4 BHK penthouses which are spread across 2 floors with bedrooms, 4 washrooms, study room, servant room and servant toilet. This one is quite vast viz. 4500 sq. ft.  with an exclusive terrace area.
The initial specifications of the apartments at Paras Irene provide a classy feel to the interiors. To begin with, all bedrooms will have laminated wooden flooring, while other areas will have anti-skid ceramic tiles. No area of the flat shall however be furnished, and even the kitchen shall be handed over in raw form without any modular cabinets or appliances. Also, all the towers are constructed with appropriate spacing between them. Large, airy balconies making the living comfortable and relaxed.
Paras Irene – Price
The base price is Rs 5,700/- per sq ft while preferential location charges (PLCs) range from Rs. 150 per sq ft (ground floor) to Rs. 350 per sq ft (penthouse). The exclusive parking space charge per bay is Rs. 3,50,000. Also external development charges (EDC) are Rs. 361 per sq ft. Club membership for fitness and entertainment will be costing an additional Rs. 2,00,000/-.
Premium Amenities in Paras Irene
This project assures the buyers to provide the best amenities in this part of town. Paras Irene boasts of a huge, luxurious 27,000 sq. ft.  recreation center, spread across 3 floors. This premium clubhouse has a separate squash court on the lower ground floor.
The other amenities which are a part of the club house are:-
Gymnasium, spa area, aerobic, sauna, yoga and meditation area.
Adult and kids' Swimming pool
Billiards and table tennis court
Cards room, restaurant and multi-utility hall, with a seating capacity of 70-80 people.
There are enough amenities to cater to the needs of kids, adults, as well as senior citizens. The sports arena comprises badminton court and a half-basketball court.
The rest of open area is all green with fine walking trails suited for all age groups. In the near future, smaller tot-lots for kids are proposed to be set up around the towers, or in the extra space inside the clubhouse.
The most common problem – guest parking – has been eliminated at Paras Irene by providing all the surface parking areas for guests, while reserving the 2-level basement parking for residents.
Conclusion
Paras Buildtech has been proving its presence in the country-wide real estate market since a long time. Irene is their residential project which aims to be buyer-friendly, providing all the necessary comforts with enhanced recreational features. The cozy and stylish flats are designed to ensure a premium lifestyle in Gurgaon for the residents. As of June 12, 2017, only a handful of units are left to be sold.  Be it an investor or an end-user, Paras Irene shall prove to be highly lucrative purchase option for both!