When discussion steers to the Uttar Pradesh urban jungle development, there are only certain developers that deliver what's promised. One of those few is the Mahagun Group. Mahagun is a name that delivers, atleast that's the general consensus. Mahagun has given Uttar Pradesh some of their best residential complexes and hotels, of which they can boast. Mahagun has completed projects like Mansion, Majestic, Maestro, Mascot and Manor amongst others, in Greater Noida, Noida and Vaishali. They have also given Vaishali a premium hotel in the form of Mahagun Sarovar Portico.
What is this about?
Mahagun has delivered some projects in the past and is en-route to delivering some more with tentative possession dates ranging from 2017 to 2019. Two such projects are the Mahagun Meadows and Mahagun Mirabella. Both of these projects are in Noida and have the tentative possession date of December, 2017. Incidentally both these projects are coming up along some of the real good infrastructure developments taking place in the city.
MAHAGUN MIRABELLA
Mahagun Mirabella is a snazzy and highly fancy project undertaken by Mahagun. The Mirabella is a project designed by the renowned international architect Hafeez Contractor, who has undertaken various commendable projects by different builders in Noida. Mirabella even though in Noida, is not as far from Delhi as one would think. It's in Sector 79, Noida, near the Mahamaya Flyover, which is in the main city. It's close to the Botanical Gardens Metro Station and is also not far from the Sector 18 Atta Market, which is Noida's biggest commercial centre and also houses Noida's biggest malls like the Great India Place and Mall Of India. The Mirabella is accessible through public transport like Metro, bus and autos. Even the Noida Golf Course is not  far from the Mirabella. Mahagun Mirabella is a 5 acre project.
Features Of Mirabella
3 Types of towers namely: Latina, Modena and Florentina
16 high rise towers with multiple typical floors
28 floors in the high rise towers
Villas in the Florentina section
Vast garden areas with multiple swimming pools and multi-purpose courts
Neo – Roman architecture, first of its kind for the city
3 high – speed elevators in every tower
Insulated rooms and windows which allow maximum sunlight and yet keep the house cool
Apartments ranging from 1,380 sq. feet – 2,720 sq. feet
Apartments are divided into HIG and SHIG sections ranging from 2 BHK + Study to 4 BHK + Study
USP OF THE MAHAGUN MIRABELLA
The Mahagun Mirabella enjoys a particularly rare unique selling point as compared to any other township, or for that matter even their own townships.
The Mirabella has a unique architectural design. It has a Neo – Roman/ Greco – Utopian design for their 16 towers. It was no small feat for the company to come up with such a radically and richly detailed design.
MAHAGUN MEADOWS
Mahagun Meadows is the sprawling 7 acre township being developed by Mahagun on the Noida-Greater Noida border. Mahagun Meadows is situated in Sector 150, Noida, right on the Noida – Greater Noida Expressway. It is a rather inaccessible site for construction projects at the moment but in a few years time, the location is supposed to become a huge metropolitan boiling pot. The possession and delivery for Meadows is again in December, 2017. The closest hub of population for the Meadows is in Knowledge Park, Greater Noida.
The Mahagun Meadows is one of Mahagun's most extensive projects being undertaken in the Noida region. Buses and shared autos are the two forms of public transports available to access the Meadows. Noida-Greater Noida metro line is under development and one can see pillars for the same across the Expressway.
Features Of Mahagun Meadows
7 acres of construction area
Amity University in close proximity
Solar panels installed for electricity and water heating (only partial)
70% of open space in the complex
Low density project
Only 2 – 4 apartments per floor
Sky Villas (Villas with ample open spaces on the top floors)
Underpass for pedestrians to walk from one tower to the other
Separate walking and cycling paths
Zen garden, jogging trail and yoga pavilion
Rainwater harvesting for flush tank water and gardening water
2 types of towers, namely : Greenshire and Yorkshire
8 towers with 34 floors
28 villas with dedicated parking for each right underneath the villa
HIG and SHIG apartments ranging from 1,425 sq. feet – 3,400 sq. feet with configurations ranging from 2BHK + Study to 4 BHK + Servant quarter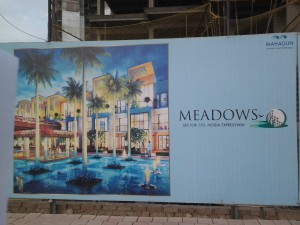 USP OF THE MAHAGUN MEADOWS
The biggest unique selling point that Mahagun found with Meadows was the pitch and putt golf course that is being built inside the township for the residents. This is a hugely glamorous and truly unique feature in the Mahagun arsenal.
Along with the golf course, the Meadows is also providing residents with vast open spaces and quite that people just don't find in urban jungles.
As of now, no builder other than Mahagun is as close to completing a golf course inside a township as Mahagun.
With the Mirabella and the Meadows, Mahagun has further upped its game in the NCR development market. Both of them have some rather unique features. Not to say that other builders aren't trying to create a niche for themselves, but Mahagun has already made their niche. Both the Mirabella and Meadows offer their apartments at approximately Rs. 4,400 per sq. feet with really attractive payment plans like their special payment plan in which 50% is to be paid within 45 days of booking and 25% on completion of superstructure and 25% on possession.