Progressive and professional names in the real estate market are here to stay, especially in the post RERA environment. They contribute significantly in forming the skyline of Gurgaon with their visionary developments. One such upcoming group that was formed under the brand of the "ALM Group", operational since 1990, is the International Land Developers Group (more commonly known to us all as ILD).
ILD started its journey with the Gurgaon real estate market and is creating a niche for itself. With respect to numbers, it has delivered 1 million square feet of development that includes a 0.5 million square feet of quality office cum retail space along with 200 acre of industrial park. Another 4.5 million square feet is under-construction and to add to it a 5 million square feet is in pipeline! The developer has 5 ongoing residential projects in Gurgaon region with 3 of them strategically located at Sector 37C, Gurgaon and other 2 at the emerging destination of South Gurgaon. These developments cater to a vast audience in the middle and higher income categories with prices starting from Rs. 40 lks for a 2 BHK to lavish penthouses that are under construction.
International Land Developers (ILD) has an established name not only for its commercial and industrial accolades that it has delivered in the past but also for a number of residential projects that are nearing completion and possession. Some of their already delivered projects in the millennial city of Gurgaon include:
ILD Trade Centre
ILD Trade Centre Offices are located in one of the busiest office localities, Sector-47 of Sohna Road in Gurgaon. The commercial building comprises of over 1 lakh sq. ft. of office space that houses major tenants like Johnson and Johnson, Lenovo, NDTV, HDFC, VFS Global amongst others.
ILD Trade Centre was conferred as the "Best Commercial cum Retail shopping mall in metro category" at CREDAI Real Estate Awards 2012. ILD Grand was also awarded as "Most Promising Residential Project of North India" in 2013 and ILD emerged as "Emerging Developer of the Year in North India" in the same year at 5th Annual Real Estate Awards.
The lower three levels of ILD Trade Centre at Sohna Road are a part of the ILD Mall. Major tenants include KFC, Dunkin Donuts, Dana Choga Kitchen, Bikanerwala, Café Coffee Day, Lee, Nike, Samsung amongst others.
A mention must also be made of the variety of spheres that the developer is involved in. Among its most eagerly awaited offerings is Skyjumper, an approx. 12,000 sq. ft. trampoline arena coming up in Gurgaon. Offering options such as a trampoline volleyball court, basketball hoops, dodge ball and wall walk etc., it promises to be a thrilling entertainment destination.
The ILD Trade Centre will see Innov8, a leading co-working spaces provider, operate out of its premises. Covering an area of approx. 10,000 sq. ft., these managed co-working spaces promise to offer all facilities for people to coordinate in coming up with innovations and products to build a better life for all.
Industrial Plotting at Manesar
ILD has experience in acquiring and allotting more than 200 acres of industrial land at IMT Manesar to big names of automobile industry like Maruti and Honda.
A Brief on ILD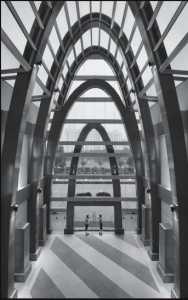 ILD was set up by Mr. Alimuddin Rafi Ahmed in 2006 post acquiring an experience of the real estate functioning and land consolidations for over two decades. The developer has a very logical approach to its projects that include launching projects at locations that have the potential to grow. A very fine example is the ILD Trade Centre, which has now become a growth and profit story for the Group. The Group has set its foot in South Gurgaon and chosen it a potential growth location with its residential projects across budget categories.
All of its current projects abut the major roads and highways in the region. ILD is investing heavily in transforming its development portfolio to be one of the most modern and in sync with the times. They have used services of leading architects and construction firms such as – Mohit Gujral for Trade Centre, WOW Architects, Hafeez Contractor and Design Forum International for the under development residential portfolio.
In our various conversations with the management team and others at the company, we could find that Group is investing in its brand, processes and future growth. Several professionals have been brought into important positions and there is a good thrust to digital initiatives as well. This is turn reflects the firm's philosophy of "work with the best", thereby infusing best design practices, international standards and best of services to the industry.
ILD believes in well planned structures that are not only sustainable but also scientifically driven for convenient end user dynamics. And most importantly, they believe in not only scoring customers but also maintaining a long relationship with them which is fruitful both the ways. The process oriented work culture has helped strike the right balance for documentation and the professional approach of employees have equally played a role in plugging the right socket for success.
Refer our disclaimer.