Indian real estate sector today is full of developers trying to offer their prospective clients new concepts for enhancing the residents social needs and lifestyle. Every developer is coming up with ideas to stand out, in the race of being the best ,unique and deliver a quality product. Experion Windchants, Dwarka Expressway, is one of the premium residential projects standing out with its state of art design features and amenities. This ~23 acre group housing at Gurgaon turns out to be a healthy mixture of low rise as well as high rise living spaces with a well distributed population density. With about 30 units to an acre this project is already promising a lavish community at Gurgaon.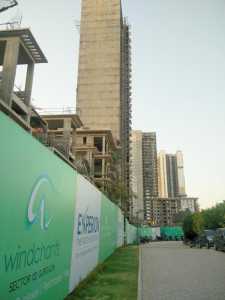 Located in sector 112 Gurgaon with direct connectivity to the Dwarka Expressway and massive commercial development in the adjacent sectors, this area is going to hold a great importance once the expressway is completed. Near to airport and equidistant from Delhi and Gurgaon this region falls in the most promising areas of the city, the Upper Dwarka Expressway.
Area, Floors & Villas
Windchants is being constructed over an area of ~23 acres out of which about 84% is open to sky. The open area thus provides ample of space for adding interesting architectural and landscape features to the project. A total of 600 units here are divided into 7 towers in a well planned pattern , the towers here are all g+27 structures and in addition to these are the 34 exclusive villas. Windchants offer units that support 2,3,4 and 5 bedroom configurations ranging from 2275 to 8800 sqft super-built up areas and yes their smallest unit is the largest for many, which in turn makes this project unique in the region. What took our attention here though, was the nomenclature which is uncoventional yet sensible, their high rise apartments are called "waving teak" signifying the heights from teak trees, the villas are called "whispering willows" and "whistling palms" because of the low height and private space they provide and lastly the duplexes are called wandering buds as their placement is township is not defined to a single piece of land. While the standard amenities aren't missing from the township we tried to list down the additional features of Experion Windchants.
Windchants offers one of Asia's largest skywalk, so technically offering a garden where one can go out for a walk and it is located on the 7th level, which is approximately 21meters above the ground level. It is one of the most unique features offered in this region.
There is also a Bio diversity pond situated within the township, it's like an eco-sensitive zone that will bring residents close to nature as it will be a welcoming feature for migratory birds and will have diverse ecological presence retained in the area.
Since the project has 84 % open spaces the designers have had the great thought of creating numerous community spaces throughout the project over 2,50,000 sqft of area is invested to improve the quality of life of the residents here.
Pool side party area and Bar-Be-Que sheds are a part of the community spaces created here, something one wouldn't find common in the region, making Windchants a township with unique offerings.
While much of the stock here is sold, the developer still has units available for sale and bookings can be done at a price of Rs 5900 per sqft to Rs 7000 per sqft depending on the unit type, the company claims to start giving out possessions by next year and complete the project by end of 2017 . If looking for a house which is near to Gurgaon as well as Delhi Experion Windchants is definitely worth checking out.