Urban life is becoming hectic and chaotic by the day resulting in healthy recreation being missed out of our daily schedules. While we love to cheer our favourite sports stars every time they play, many of us are lazy enough to even wake up early mornings. A balance of work as well as recreation is mandatory and preached, India is the Yoga capital of the world. Every real estate project proposed today has a well-equipped club as a part of it. But the sad part is, by the time when possessions are offered the clubs are either not completely constructed or either, are not fully functional. This is quite a letdown for those looking forward to move into their own homes and enjoy the quality living in a gated community. However, TATA Housing has taken utmost care in its latest offering TATA Primanti in Sector 72, Gurgaon.
TATA Primanti is one of the few projects around, which have a nearly functional and well-furnished club and recreation center even before the possessions are offered. So technically by the time people start moving in their residences at Primanti, expected in 2016, the club will be ready to serve its residents. Considering the busy schedules one follows today, an activity center within a minute or two walking distance come as a respite. Every recreational center or club serves three major purposes, one is the health facilities, second is the sports facilities and the third is having spaces for social interactions. The club at TATA Primanti justifies all three with a considerably good planning and distribution of activities.
TATA Primanti : Health Facilities
At Primanti the health facilities are already completed and are available to use even before people are there to live in the township. This includes a plunge pool adjacent to the spa and sauna section in the club. The spa and sauna is accompanied with massage rooms, which have warm lighting and a design that promotes a relaxing ambience. Along with this, a well-equipped gym accompanied by a dedicated room for yoga and meditation, are just a bliss for the health conscious users moving in Primanti. Quality of machines and equipments itself speaks for itself. Moreover one can overlook the greens of the complex and the swimming pool in the midst of the cardio session.
TATA Primanti : Sports facilities
The needs of any Sports enthusiast are taken care of in a well-planned manner and are nearing completion. At Primanti, TATA Housing, built two squash courts and not one, along with table tennis room and billiards room. Moreover there is an indoor badminton court which is not seen at many places at Gurgaon. With this outdoor courts for basketball, badminton and tennis are also ready to use. A large rectangular swimming pool is part of the completed club building, the pool is surrounded by wooden decks and seating spaces, with a number of well-equipped changing rooms. The pool and its size are decent enough to take care of people passionate about swimming.
Recreational Facilities: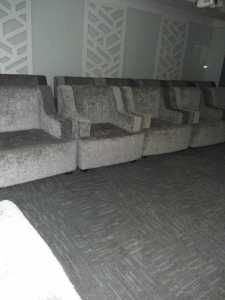 Like every other facility at TATA Primanti, a great care has been taken for recreational social spaces. A restaurant open to sky with view of the pool is just a minute detail one notices. A full-fledged bar area adjacent to pool side with a view over the pool is something soothing to eyes. A mini theater which caters 15 people at a time is also available on bookings for people who wish to watch a movie with family and friends over the weekends. A small party hall for gatherings is just another addition to the package. Social interactions hold a place of great importance and understanding the need TATA Primanti has taken a wise step forward to fulfill the same.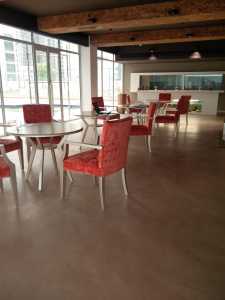 The club has an area of about 25,000 sq ft, and for a complex of this size, the size of the club building is more than average. With central courtyard planning the club has abundant natural light and ventilation throughout. The building follows a contemporary theme and thus pergolas, sculptures and walls have a finish matching the theme, falling in the right place. Another feature worth noticing is a number of small cubes on the roof of the gym which make the space look even more interesting in addition to the glass fitted wall, that seamlessly blends with amenities. TATA Housing recently invited its clients to the club house and one can find the testimonials shared by these visitors right at the entrance.
TATA Primanti, as we discussed earlier is a property that stands tall on the Southern Peripheral Road (SPR), which is likely to be operational by September 2016, and with its expansive designs, amenities and grand club house is distinguished address too.