Technology intervention in our lives is now more than ever and much of it is bringing positive change to our life quality and standards. We have been working on developing newer technologies and improving current solutions by the day. In the past decade the change brought by this evolution is significant enough to draw anyone's attention. Things we use in our day to day life have all been influenced drastically. Wrist watches have become smart watches, phones have become smart phones, cars have an inbuilt G.P.S and moving towards being driver less, even the television screen has become smart and everything is interconnected via the internet. And yes this isn't the end, something new is added to the list every day. Being very important parts of our lives, our houses and cities are one of the most studied and talked about subjects in this field. The concept of Smart cities and Smart living is the latest trend of the time.
Central Park Resorts, Sector 48 Gurgaon is just a fine example of the initiation of this concept. Smart cities concept brings along the cities assets which primarily include, but is not limited to schools, libraries, transportation systems, hospitals, power plants, water supply networks, waste management, law enforcement, and other community services. The goal of building a smart city is to improve quality of life by using urban informatics and technology to improve the efficiency of services and meet residents' needs. While one may not be able to visibly notice the changes being brought about, they can feel the changes as the active functional elements of their life. 
Central Park Resorts is one of a kind apartments and condominium complex at the millennial city of Gurgaon. What sets apart Central Park Resorts from other gated communities is the Ready to Live in concept it offers. All you need to do is pack your bags and walk into the apartments and rest will be taken care of, from providing you a semi-automated and fully furnished apartment with all the services you get in hotels, like butler on call, laundry on call, room service and so on. Living in a hotel is certainly a leisure one experiences for a limited time, but living in an apartment complex like this sets the benchmarks to another level. Such lifestyle is further enhanced by utmost care taken by the developer to preserve the environment. Listed below are certain aspects of Smart cities and Smart living one can notice going through Central Park Resorts:
EFFICIENT PLANNING TO MINIMISE THE WASTAGE OF SPACE AND IMPACT ON ENVIRONMENT
Land is the most important and valued resource being put in the construction of any city. Getting land involves deforestation which has a direct impact on the environment. There needs to be a balance between constructed area and the green cover of a city. This balance can only be attained by efficient planning. At Central Park Resorts extensive care for the same has been taken, the master-plan has a balanced distribution of area, with over 22.1 Acres of green area which lends the gated community its own balanced micro-climate. The basements have been used efficiently to have over 4000 parking capacity and house all the additional services of the residents thus reducing need for more land.
ENERGY EFFICIENT DESIGN WITH USE OF AUTOMATION
Energy efficiency is something which has been highlighted in the norms to construct a smart city. Today we are dealing with a catastrophic decline of resources, the energy requirements thus need to be controlled in order to make the resources last longer. The design plays a vital role in reducing the overall energy consumption. Every unit at Central Park Resorts has abundant natural lighting and ventilation to reduce the power consumption during summers as well as winters. Automation features to automatically switch on/ off the lights detecting the human presence with motion sensors bring power savings. The air-conditioning units, that accompany every unit, are highly rated to reduce the overall consumption of electricity.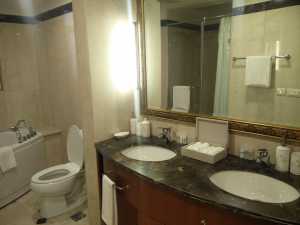 HAVE AN EFFICIENT SERVICE NETWORK TO SERVE THE CITY
The city not only needs to look good but function well in order to maintain its image, here is when the role of services like water supply, sewage lines and electricity lines come. These systems need to be provided in accordance to a well calculated buffer which may be required in cases of emergency. Central Park Resorts has a well-planned system of services which are all running under the ground, least exposed to the weather changes and have a well calculated capacity. It is just another fact that during the heavy rains in Gurgaon last year (2016) Central Park Resorts was one of the few apartment complexes which were unaffected by the overflowing water. The planners have provisioned for nearly 80mm of rainfall in a single day, considering Gurgaon's typical climate pattern that is difficult to be crossed. Moreover, Central Park Resorts had zero discharge to the roads due to efficient in house drainage systems.
Further 36 rainwater harvesting recharge pits are lined up across the gated community. It helps conserve the bountiful water that the city receives during monsoons.
A HEALTHY AND SECURE LIVING FOR THE RESIDENTS
A Smart city needs to be a place which provides people a peace of mind. A city is termed to efficient when it has all the functional elements and yet doesn't have an adverse effect on the health of the residents and at the same time assure their safety. Central Park Resorts is a gated community under C.C.T.V surveillance providing complete security to the residents. The resort has no vehicular movement on the surface thus adding to security of the residents. Those living inside or the guests are served by golf carts to their destination inside the complex. A stand out feature at Central Park Resorts  is the grand tunnel where residents inside the circulation takes place either through the grand tunnel in which all vehicular movement takes place. This reduces the pollution and the particulate matter in the ambient air, making this address user friendly.
CARING FOR THE ENVIRONMENT
All of us are aware of the challenges rapid urbanisation has brought about to emerging markets. Gurgaon is not an exception since erstwhile vast green areas have now been transformed into popular residential and office spaces. At Central Park Resorts the developer has paid due attention to safeguard the environment. A state of the art Sewage Treatment Plant recycles the waste water which is later used to maintain gardens and greens and supplied to washroom flushes. Also there is an organic waste converter that converts the organic waste to compost used for growing and maintaining nearly 1500 plants and trees in this complex. Further solar heating panels on the rooftop utilise the vast energy of Sun to supply hot water into residents' bathrooms, thus also bringing down the monthly electricity bill for them.
Central Park Resorts is probably the only housing complex in Gurgaon that provides 5 certifications to home owners when they move in. Global consultants such as JLL, DEMA among others conduct stringent audits to certify – Super Area & Escalation, Specifications as per Apartment Buyer Agreement, Certificate for Design & Safety UPVC Glazings, Design & Safety Certificate for Structural Stability & Safety of Mechanical, Electrical & Plumbing. This is a great way of empowering and assuring a home buyer who is otherwise worried about quality of homes they own.
While the concept of smart cities is something new, a step like the one by Central Park Resorts is just a step to the future, which aims to the betterment and development of quality living spaces