Adjacent to the NH-8 and not far from Dwarka Expressway and Pataudi Road is the Bestech Parkview Ananda at Sector 81 Gurgaon, a premium residential community for upper middle class individuals. Parkview Ananda is one of the few apartment projects in New Gurgaon which is now ready for possession and inhabited as well.
New Gurgaon, which is about 30 minutes away from Rajiv Chowk, gained prominence because of Dwarka Expressway development and also because prime Gurgaon's business districts became crowded and expensive. Moreover in the year 2015-16 the development of Dwarka Expressway has received impetus from both state and central governments. The efforts to fast track the development of this alternate stretch of road between Delhi and Gurgaon will bring a positive impact to New Gurgaon infrastructure. If one were to visit these areas today he can see rampant road building, apartment construction and fair bit of habitation. Sectors in New Gurgaon are well planned with provisions for basic and office infrastructure, unlike the Gurgaon which saw humongous growth coming at cost of urban planning.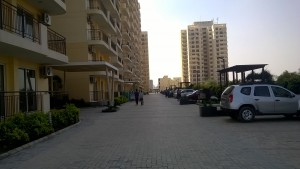 Bestech Parkview Ananda stands out amongst the many projects developed in recent years in Gurgaon. Here are a few notable feature of the project:
A short (5-10 minutes) drive from the

Dwarka Expressway

Well connected to the

NH-8

and

Pataudi Road

Located right in front of a 60 meter sector road

One can access hospitals and schools in Gurgaon or Manesar

Vendors selling groceries and vegetables put up stalls within the Ananda complex

One can access shops and restaurants which are now operational at India Next township
To get to Parkview Ananda complex from Gurgaon, one should head south on NH-8 and cross the Kherki Daula toll and take second exit before turning right. Bestech Parkview Ananda can then be reached within two minutes drive from NH-8 following this route. It is just over an hour away from New Delhi. Connectivity to this spot will be excellent in the future, as development authorities are building a bypass that will connect Gurgaon to Manesar. Traveling to and fro and around Gurgaon's business districts should be much easier once the bypass has been completed. Once the Dwarka Expressway is fully operational, traveling to International Airport and other areas of Delhi will get smoother too.
We should mention that Bestech Park View Ananda has recently been awarded the Premium Project of the year – North, by NDTV. Ananda has won this against some stiff competition from major developers across the country.
The Bestech Parkview Ananda In Detail
Parkview Ananda offers 2 and 3 BHK luxury apartment units in 8 towers, each of them being a G+14 structure. Each tower has 3 lifts with 6 units on each floor. A total of 720 units are available in the project. Possession for these units began in December 2015 and close to 120 families are currently residing at the complex. Bestech Ananda is also home to exclusive 5 BHK villas, just 14 of the. While we were investigating the project we saw residents plying in and out of the complex.
With Parkview Ananda, Bestech is making aesthetics and comfort the priority. This can be seen in their focus on the interiors of units, which utilizes imported marble for the living and dining areas and wooden flooring for bedrooms. These units also arrive with split air conditioners in all bedrooms and the living room. Developer has also provided for a neatly built modular kitchen.
One characteristic of these apartments which stuck to our mind when we made the site visit was the abundance of natural lighting, and the ventilation. All the rooms receive plenty of natural light and adds to comfort. The design of the units also gave it the impression of being more spacious, which of course is good.
Floor Plan
As we said, there are 2 and 3 BHK units available in the Ananda complex. The 2 BHK has two toilets and this is the only available configuration. The 3 BHK units essentially have two configurations: two options with 2 toilets and other two options with 3 toilets. The latter group also comes with a puja room. Amongst these two configurations, there is a slight difference in total area, but the difference is minimal (about 15 – 20 sq. feet).
The 5 BHK villas also have two configurations – include a dressing room, a front lawn and a dedicated spa section on the terrace with a jacuzzi and steam room. The villas have a ground floor, 2 upper floors and a terrace. The villas also have provisions for lifts.
Amenities that are in store for residents –
For a luxury apartment to thrive, it needs a comprehensive set of activities, recreation options and facilities in its premises. 80% of the 12 acres of land upon which the project has been designed will be open area. From a full-fledged clubhouse to a cricket net, the choices at Bestech Parkview Ananda are varied. Here is a full list of amenities:
A clubhouse with recreational, sporting activities and parties

A swimming pool each for adults and children

A professional cricket net for practice

Outdoor tennis and badminton courts

A basketball court,

 skating rink and s

quash court

Yoga huts for yoga and meditation

A jogging track
The landscaping work is largely complete while some areas of club house are still under construction.
Pricing
Apartments at Bestech Parkview Ananda begin from Rs.85 lacs onwards.
The 2 BHK unit has a super built-up area of 1360 sq. feet. This puts it in the price range of about Rs. 85-90 lacs. This unit has 3 side terraces and a dressing room to it.
The 3 BHK units have 4 different specifications. The 3 BHK unit with two toilets can be of 1645 and 1660 sq. feet. The 3 BHK units with 3 toilets and a puja room can be of 1790 sq. feet or 1810 sq. feet. All these units have 4 side terraces.The 5 BHK villas have two different specifications: 5440 sq. feet and 5480 sq. feet. The latter has an additional balcony attached to the bedroom on the third floor. Both types have utility rooms, servant rooms and private gardens.
Bestech Parkview Ananda is one of the few projects which is in handover stages at New Gurgaon. And delivery track record is something that puts Bestech ahead of several developers in Gurgaon. Moreover the quick habitation by buyers and tenants will affirm the developer's appeal amongst those exploring options for ready to move in property in Gurgaon.