Among the upcoming satellite towns near Pune, Talegaon is one that particularly stands out as a real estate destination. This town has far outgrown its humble beginnings and is today, attracting a number of developers to come up with top quality projects and home buyers aplenty in equal measure.
This emergence of Talegaon as a promising real estate hub is not by accident, but is due to a coming together of a number of factors such as great connectivity, a pleasant climate and plenty of industrial growth nearby. We look at each of these factors which make this town so attractive to various categories of home buyers in the area.
Talegaon: Top-notch Connectivity
In today's age, one can say that good connectivity is the harbinger of progress and Talegaon is doubly blessed in this regard, being well-connected by road and rail. Talegaon lies on the major national highway NH4, connecting Mumbai to Pune and onwards to Satara and Kolhapur. The Mumbai-Pune Expressway too is only 4-5 km away. One can reach here within 2.5 hours from Mumbai, 30 minutes from Pimpri-Chinchwad and 1 hour from Pune.
In addition, the town is connected by a well-tarred road to the neighbouring industrial area of MIDC Talegaon, as well as other major industrial areas of Chakan and Shikrapur. These industrial zones house major MNCs such as L&T, General Motors, Volkswagen, POSCO, JCB etc., with more (such as Foxconn) in the pipeline. A 200 hectare floriculture park for growing and storing flowers for domestic consumption and export has also come up here, as an initiative of the MIDC. Another major benefit, connectivity wise, is a link road from here to Hinjewadi & Talawade, the main IT hub of Pune.
Talegaon is well-served by PMPML buses from Pune as well as State Transport buses from Mumbai and other cities. Also, it lies on the Mumbai-Pune railway line. All local trains to and from Pune have a stop here and some even originate and terminate here. It's not surprising to see how this connectivity attracts people of all hues.
Talegaon: Well-developed social infrastructure
Talegaon also can boast of good social infrastructure present in and around the town. A number of educational and healthcare options abound here, with large hotels and shopping centers within close proximity at Hinjewadi as well. Among the schools present here are the High Vision English Medium School, Heritage School by Pearson and BK Birla Centre for Education. The notable colleges around here include the Tolani Maritime Institute, MIMER Medical College and DY Patil College of Engineering. Medical care facilities are available at Lifeline Multispecialty Hospital, Pawana Hospital and Pioneer Hospital.
Talegaon: Lush green surroundings with a pleasant climate
Talegaon is at a nice elevation, which is actually higher than the popular twin hill stations of Lonavala and Khandala. This aspect ensures this town has a very pleasant climate all year round. In addition, it is surrounded by hills on all sides. Particularly during and just after the monsoon season, these hills abound with waterfalls and plenty of greenery, offering a soothing site to one's eyes.
The Indrayani and Pavana Rivers flow by near here and their pristine waters add to the charm of living in this place. The town also boasts of large open spaces and offers great views of the surroundings for as far as one can see. With popular tourist attractions such as the Karla Caves, Bhaja Caves, Lohagad and Visapur Forts in close proximity to the town, it serves a good base camp for a nice short holiday.
Talegaon: Affordable homes
Adding more fuel to the demand of homes in Talegaon is the affordability of properties here. In comparison to Hinjewadi, Wakad or even Ravet nearby, Talegaon emerges as a far more economical option for home buyers. The average base price of a multistorey apartment in Talegaon comes to approx. Rs. 3,000/sq. ft. One can easily get a 1 BHK home for around Rs. 22 lakh and a 2 BHK apartment for Rs. 33 lakh, which is a lot lesser than elsewhere in Pune or Pimpri-Chinchwad.
Talegaon: Attractive to a wide variety of home buyers
A combination of all the above mentioned factors has meant that Talegaon is a much in demand housing destination. A significant portion of the demand for a home comes from people looking for a second or vacation home, particularly from Mumbai and to a lesser extent, from Pune. Demand has also come in from NRIs looking to settle in India and from senior citizens, who are attracted by the sylvan surroundings.
Another group of interested home buyers here is that of real estate investors, looking for good returns on their investment. Their optimism in this town's growth prospects is justified by the fact that property prices here have doubled since the end of the year 2009. The town also attracts people working in the industrial hubs of MIDC Talegaon, Pimpri-Chinchwad and MIDC Chakan, as well as some spillover demand from the IT crowd working for various companies in Hinjewadi & Talawade IT Park.
Talegaon: Important projects
Aayush Park II is an upcoming project next door to the already completed Commander' Aayush Park, being developed by the Earnest Group. This project comprises of 337 residential units of 1 and 2 BHK configuration spread across three towers. The amenities provided to residents include a children's play area, gymnasium, jogging track, study room and a multipurpose court.
Goyal Properties, one of the emerging developers in Pune, have their upcoming project My Home Talegaon located just off the Talegaon – Chakan Road. Offering quality 1 and 2 BHK apartments spread across 3 wings on a 2.5 acre land parcel, it boasts of amenities such as a landscaped garden, jogging track, amphitheater, multipurpose hall and a children's play area.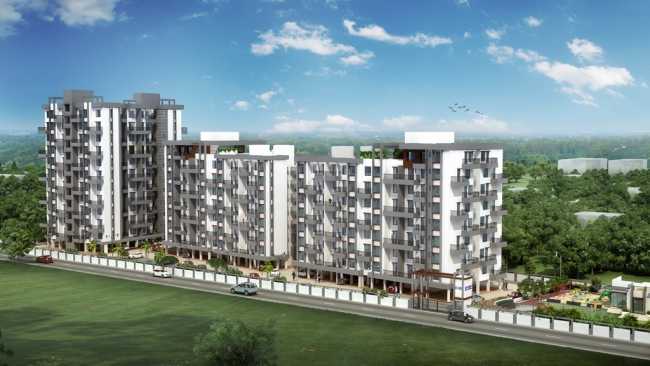 Located almost next to the Indrayani River is Parmar Construction Company's project, Rio Vista. Offering 1 and 2 BHK apartments at an affordable starting price of Rs. 21 lakhs onwards, it's unsurprisingly attracting plenty of interest. Among the amenities on offer are a river view deck, a river view meditation zone, a Spanish themed clubhouse, party lawn and a central plaza.
Conclusion
When one hears the name 'Talegaon', it is understandable that one would consider it to be a village, owing to the 'Gaon' in its name. However, one visit to this 'village' is all it will take to dispel any such notion. Talegaon's easy approachability, the affordability of apartments here, the pleasant climate and lovely surroundings put together make it a great place for someone to consider purchasing a home in. One can see why this hitherto nondescript village has seen such a rapid rise in real estate and is now, poised to become a new satellite city of Pune. A host of prominent developers have taken note of this town's promise and have come up with projects, perfectly suited to the profile of interested home buyers here.