Over the last two decades, Andheri, one of Mumbai's western suburbs, has witnessed the most widespread development in terms of residential and commercial real estate complemented by reliable roadways and highways and expansion of railway services. Andheri's growth began in the early 2000's when many companies started outsourcing operations to Mumbai which also brought it with the Mall and multiplex culture, restaurant chains and pubs, making it a vibrant, cultural hub.
This also coincided with the development of the Link Road – an arterial route on the western side, parallel to the S.V. Road. It connects Juhu and Andheri to the west side of Jogeshwari, Goregaon and Malad up to Dahisar. PropStory takes an overall view of the suburb of Andheri and notes the top 6 reasons to make it your home.
Central Location
Andheri is suitably located in the heart of the suburbs from where one can easily traverse to the northern suburbs of Malad, Borivali, Mira Road and beyond and just as easily south to Bandra, Dadar and south Mumbai. One can even travel towards the central suburbs quite easily from Andheri via the arterial Andheri-Ghatkopar road as well as the newly constructed Metro. Residents of Andheri have an easier access to the commercial hubs of Bandra-Kurla Complex, as well as the commercial offices in Jogeshwari, Goregaon and Malad. To top it Andheri East is home to the International Airport and is also connected by the new elevated road to the domestic airport in Santa Cruz, just a few kilometres away.
Top Infrastructure
In the not so distant past, Andheri East had rolling hills, the remnants of which one can still see from the famous Mahakali caves and the residential enclaves of Vijay Nagar, Subhash Nagar, Marol and Saki Naka. These hills were slowly eroded to provide space for real estate developments, both residential and commercial. As both sides of Andheri were developed, the GK Gokhale Bridge was built connecting the east and west for easier commute. This bridge in fact provided impetus for further developments as bigger names in real estate swooped down on available plots to develop them.
The immediate neighbourhood around the Andheri East station also has a well connected network of skywalks, removing the foot traffic from the road below and thus allowing better passage of traffic, especially during peak office hours. An enviable frequency of bus, train and metro services makes commuting easy and Andheri a coveted location among the 'burbs.
Commercial Hub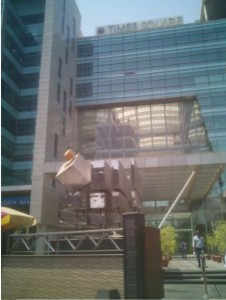 Andheri is home to a wide variety of commercial activity. The Santacruz Electronics Export Processing Zone (SEEPZ) was set up as a special economic zone in Andheri East in 1973 and today houses companies from various industrial sectors. The Maharashtra Industrial Development Corporation (MIDC) also set up its IT Park in Andheri East. In addition to these are various private office complexes, branches, corporate headquarters and industrial complexes spread all over the east side.
The western area of Andheri is also home to similar commercial developments like the Veera Desai Industrial Estate and other office complexes as well as Motor showrooms like Mercedes and Audi.
Cultural Melting Pot
Various parts of Andheri have been home to singular Indian cultures and sects. For eg: Andheri West's Lokhandwala, Seven and Four Bungalows and Versova localities are well known for their Sindhi residents. Whereas Amboli and Four Bungalows are heavily populated with Christian communities due to the proximity of churches just as Chakala and Marol are in Andheri East. Similarly, J.B. Nagar and Sher-e-Punjab in Andheri East has a predominance of Sikhs. Over the last few years however, these invisible boundaries have blurred and these localities have become more cosmopolitan and less exclusive. This can also be seen in the varieties of cuisines on offer in restaurants across the entire suburb.
Entertainment Nerve Centre
Residents of Andheri have slowly but steadily embraced the evolving city culture as can be seen at the many pubs, malls and night spots teeming with activity as people exit offices and enter more relaxed environs. The suburb has many prominent hot spots like Bar Stock Exchange, Harry's Bar, Hard Rock Cafe, Fun Republic, Infiniti Mall, PVR, various restaurant chains like Barbeque Nation, Mahesh Lunch Home, Oh! Calcutta, Red Box and many others. Since Andheri is home to many television and film actors, you never know who you might run into in these hot spots!
Proximity to the domestic and international airports also means that many hotels call Andheri home like The Leela, Hyatt, ITC, The Courtyard and more. Being a coastal suburb, Andheri also has it own beach in Versova and is close to the more popular Juhu beach.
Inclusive
Andheri enjoys a very inclusive culture and ambience not just with a mix of religions and cultures but also in the options and opportunities available. There are a plethora of options for parents trying to choose schools for their children, from government, semi-private, private, convent to even international schools. Higher education institutes too are numerous with Bhavan's College and S.P. Jain Institute in Andheri West and Tolani in the East being the more prominent ones.
Given these broad features one can only understand the rush of builders to develop property and buyers to occupy the property. This has, however, also resulted in rising real estate prices making housing in this bustling suburb less affordable to low and middle income groups. Andheri has become more crowded and congested with traffic despite more amenities like the metro and better connectivity. It, has also, over the years developed a party-town feel due to its quickly evolving nightlife making it a challenge for families to raise young, impressionable children who are easily lured by the glamourous aspects of corporate life and luxury residences.
Don't let these cons deter you though, from experiencing a Mumbai suburb that is well connected and has some of the better amenities and nightlife in the city even as it still evolves.