Just 3 kilometers from the bustling Electronics City, there will stand a magnificent township in the absorbing serenity of Neotown. The GM Infinite Global Techies' Town is expected to stand up to the promises that it makes and to deliver quality with elegance. The vicinity of the location to an IT hub and the various amenities inside the campus do make this upcoming project worth giving a serious thought.
Accessibility
The project will be located in Neotown, which is around 3 kilometers away from Electronics City. There is just one road, named the Neotwon Road, connecting the location to the urban parts of Bangalore. The surrounding area is quite remote and does not bear too many signs of urban development.
However, it is not a desert. There are various other apartments in the periphery and real estate is coming up rapidly in the location. Aratt Firenza, Aratt Requizza, Smondoville and MJR Clique are in close quarters. Yet, there is no connectivity through BMTC buses at this place. Cabs generally don't ply in good numbers to this place. The only respite is the availability of a personal vehicle. It just takes 8 minutes to reach the project location from Infosys Limited campus.
Neighbourhood
There are a number of real estate projects coming up in the surrounding areas. Projects like Smondoville and Shriram Summit are already inhabitated. Thirupalya Lake and Hebbagodi Lake are just a few kilometers away. GM E-city town is also extremely close. Neotwon enjoys its proximity to the IT hub in Electronics City. As a result of a number of companies like Schneider, Wipro, Infosys Limited, Siemens, HP, HCL, Tech Mahindra, Bosch and CGI among many others present in close quarters, Neotown is soon becoming a favorite option for IT employees.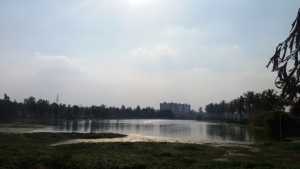 Neeladri Nagar is also quite close. Neeladri Nagar is quite a bustling area, with many famous eating joints and fashion retail brands having their branches here. Institutions like International Institute of Information Technology Bangalore and PESIT are also quite close. Symbiosis Institute of Business Management, Xavier Institute of Management Education, IFIM and ISBR are also very close to the project location.
Narayana Hrudalaya hospital is also near to the location and it may take just 15-20 minutes to reach the hospital that is approximately 5.5 kilometers away. St. Johns hospital is also 16 kilometers away and can be reached in just 40 minutes, provided the traffic of Bangalore does not play a havoc. Supermarkets like D Mart and Village Hypermarket are also very close to the location.
Amenities
Talk of amenities and GM Infinite Global Techies Towers will open the doors to a plenitude of them. Greenery will abound in the project location. Finding parks and gardens won't not a difficult task at all. There will be a children play park to keep your kids busy. Skating rink, trampoline and skate board park will be open to adventure enthusiasts.
Sports lovers will be able to spend the entire day at Tennis Court and Half Basketball Court. And if you love strategy games, then the life sized Jumbo Chess will entertain you. An outdoor gym will await the fitness freaks. Rock climbing wall and pool deck will also make your days pleasant.
One feature that will stand out in the entire campus is the clubhouse planned for the residents. Right between the towers, the clubhouse will stand as the mecca of entertainment and rejuvenation. Supermarkets and spa will come up inside the premises. A mini theater is also promised to the residents.
Floor plans of GM Infinite
The project area is 28 acres. The floor plans are shown below. We have not shown all the floor plans, but just 3 out of 10 different floor plans.


Prices
The approximate pricing is mentioned below.
2BHK
900 sq.ft.: INR 37,58,000/-
1150 sq.ft: INR 47,00,000/-
3BHK
1500 sq.ft.: INR 52,90,000/-
1750 sq.ft: INR 82,00,000/-
Please note that 1750 sq. ft. flats are not available until 20th floor. These prices are exclusive of registration charges.
Specifications
The structure of the basement and stilt will be made out of RCC frames. The project will have aluminium system framework for typical floors with RCC slab and walls. The vitrified flooring for living, dining, bedrooms and kitchen will have a treat to the eyes and anti-skid ceramic tiles in toilets and balconies are an add-on.
Masonite doors and hard wood frames will add elegance to the rooms. Lifts, pumps and lighting points inside the rooms will have power back-up. A water treatment plant, sewage treatment plant and fire protection system will ensure your safe and healthy lifestyle.
Project delivery date
The project is expected to be delivered by 2020.
USP
The most striking feature of the Global Techies' Town will be the swarm of amenities that will be at disposal of the residents. It will be quite difficult to choose a handful out of so many options. Moreover, the project is inspired by American Greek Revival architecture. The proximity to the IT hub and therefore, a large number of companies and educational institutions give it an advantage. Hospitals are nearby, as are other apartments. This shows a promise of rapid development of the location in the times to come.
Conclusion
Overall, GM Infinite Global Techies' Town is going to be a magnificent real estate project, which will promise you of plenitude of amenities and beautiful floor plans. The prices are for the buyers to comment on. The surrounding area is a bit remote at present, since there is no connectivity through buses. However, change is the only constant. And one can be quite optimistic about witnessing rapid development in this area. The upcoming real estate projects also reinforce the hopes of a bustling township very soon.