Rohan Builders is a firm which built its track record in construction of industrial and infrastructure projects before foraying into real estate development. The firm counts several leading MNCs and Indian firms such as Colgate, Bajaj and Cargill amongst its clients. It is amongst the fast growing real estate firms in both Pune and Bangalore. The realty landscape of Pune is in good stead as the city presents a wide range of housing units, offering buyers a comfortable price scale to choose from amongst affordable tenements to luxurious living spaces. And yes, that's what makes Pune one of the preferred choices for people to reside, while at the same time being the ideal destination for investors. Rohan Leher 2 gives that extra to Pune's property fundamentals through meticulous planning and spacious residences.
Location advantages of Rohan Leher 2 at Baner 
Located off the Mumbai Bangalore Highway at Baner, Mohan Nagar in Pune, what in my perspective defines this suburb is its wide roads, commercial complexes and prominent outlets on either sides. These all are fronting uptown residential spaces in their backdrop. Intersecting the Sus Road Highway, Baner not only provides an easy connectivity to Pimpri-Chinchwad but is in vicinity to areas such as Balewadi (a 10 minute drive), Aundh (about 15 minutes), Shivajinagar (in less than 30 minutes) and other key places as well. Rohan Leher 2 is in close proximity to central Pune city, whilst Pimpri Railway Station and Pune International Airport are at a distance of mere 13.7 and 22 km respectively. Also, Hinjewadi IT hub, schools such as Kidzee & Dolphin English Medium School (0.5 & 3.2 km), hospitals like Datar Hospital & Kilbil Children's Clinic (0.7 & 2.1 km) and markets such as Suyash Mall & Orchid Society (2.2 km) all lie within a 5 km radius (more on West Pune).
Project highlights
A very meticulously developed project, Leher 2 is spread on 3.5 acres and offers 3 BHK apartments and penthouses. All living spaces here provide spacious rooms and wide balconies to residents. Just as any other project by the developer, Rohan Leher 2 also has the peculiarity of combining aesthetics with design. Every home is created with the beauty of a villa along with the cosiness of apartment and hence aptly named 'Villament'.

A customary notion in designing every Rohan home what they call the plus home, stands for Perfect ventilation, Lively light, Utmost privacy and Smart space. The project is established with a mix of low-rise apartments, garden apartments, duplexes and penthouses located amidst the posh settings of Baner. Wide windows with bronze-aluminium shutters bounded in all-embracing pergola casings and bright white walls of the project distinguish it from the otherwise usual background.
Duplexes and penthouses aside, every apartment is positioned on a split level, so each unit has its own unique space. What appealed to me is the design that included rounded edges on the interior walls, open-planed kitchen lying in central portion of the house which offers an accessible approach to rooms indoors, providing a lovely view on either sides. Wide and favourably located vents help ensure that every unit is teeming with fresh breeze and natural light.

With a 5-star rating by Eco Housing and IGBC Green Homes Gold rating certification, the project offers features like an early learning centre, activity deck, dual flushing and low flow fixtures. We think environmental awareness is extremely important for any builder. 
Rohan Leher 2 comprises of 15 towers with 180 units unfolding over a huge expanse. 14 four-storied and one twelve-storied buildings of which at present, 10 are open for booking, including 5 of Type I (K,L,M,N,O) and 5 of Type II (F,G,H,I,J) The project offers a selection of premium residences that one can opt from, depending on the price and space requirements. The 3BHK luxurious Villaments and Penthouses it offers are worth 1.01-1.5cr, ranging from Rs. 6470-9677 per sqft whose tentative possession is probable by December 2016.
Types of units and prices
3 BHK Flats range around 1.08 Cr – 1.15 Cr with an area of 1389 sqft costing Rs.7,775 – 8,279 per sqft inclusive of 3 bathrooms and 2 balconies.
3 BHK Flats costing 1.10 Cr – 1.50 Cr with spacious 1550 sqft area between 7,096 – 9,677 per sqft comprising of 3 bathrooms are also available.
Moreover, 3 BHK Flats of 1.01 Cr – 1.39 Cr having an area of 1557 sqft have a rate of 6,486 – 8,952 per sqft and include 3 bathrooms.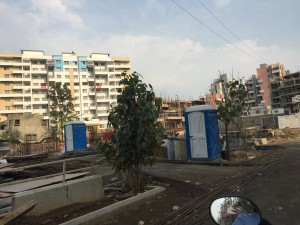 Another set of 3 BHK Flats worth 1.01 Cr – 1.22 Cr and 1561 sqft area cost 6,470 – 7,835 per sqft consisting of 3 bathrooms, 1 balcony, and a living Room as well.
3 BHK Flats of 1617 sqft with 3 bathrooms and 2 balconies are also available to choose from apart from 3 BHK Flats of 1757 sqft with 3 bathrooms.
Furthermore, 3 BHK Penthouse costing about 1.48 Cr – 1.48 Cr comprising an area of 1779 sqft with per sqft rate of Rs. 8,319 – 8,331 offer 3 bathrooms along with.
Buyers can also opt for 3 BHK Penthouse with an area of 1939 sqft that offers 3 bathrooms.
What I found to be the most beautiful part about the project is that apart from the top-end fits and finish what comes additional for garden flats – the water body, decorative ceramic flooring with designed landscape and low height fence while for the penthouse- landscaping on roof terrace, unique design pergola and an optional choice of pool.
Ease of living inside Rohan Leher 2
Rohan Leher 2 integrates a range of conveniences to maximize ease at every step for its residents, by offering ultramodern amenities like automatic lifts, 100% power backup for common facilities, emergency power backup for fan and light points in each room. Bearing in mind environment's needs, the project also offers wet garbage composting, rainwater harvesting system, sewage water treatment plant, seismic-resistant structure design, solar lighting for common areas, drip & sprinkler irrigation for landscaping as well as ample covered parking. Furthermore, sanitation facilities for chauffeurs and domestic help is another plus.
Rohan Leher 2 is above the usual apartment complexes and may appeal to those who are looking for an eclectic blend of quality and ease of living.